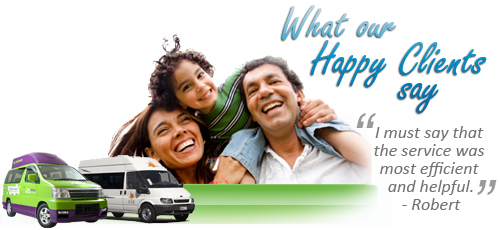 19/08/2017
Really great experience again....thanks team
19/08/2017
Excellent trip - everything was perfect
05/08/2017
Very convieniet for a family of 5, enjoyed our trip down to Windy Wellington. Everything we needed our home away from home. Made our trip alot easier, very spacious with my partner being pregnant so no complaints there, kids had tv handy to watch movies off hard drive (has usb port) Sleeping arrangement were not a hassle at all. Will definetly be hiring over the summer, ive also recommended to family and friends. Thanks
29/07/2017
Thank you discovery Motorhomes for making our dream come true and my husbands 40th a memory we will all never forget! Everything went smoothly and we will recommend you to all our family and friends!
24/07/2017
The wifi reception was intermittent so not always available when we needed it but I doubt that is anything within your control
15/07/2017
Overall was great rental, AAA, staff friendly and airport pick up/drop off was great
01/07/2017
Discovery Motorhomes and Jucy Campers were fantastic from start to finish. I cannot recommend both highly enough.
19/06/2017
The staff on pickup were so wonderful, even setting up our navigator and a very full run through on the vehicle. Very much appreciated the additional items given for free, even asking us to clear our the leftover fridge and counter of anything we might need e.g. plastic food containers, bbq sauce, clothes pegs, jams, spreads. Thank you for all the wonderful staff pointers on the return of the vehicle, because we are now motorhome converts and looking forward tour next family trip to the South Island. Why go overseas, when with a motorhome your backdoor is so much more comfortable, exciting and cost saving. THANKYOU AGAIN!!!
17/06/2017
Many positive comments can be said
10/06/2017
Booking process via the computer and orientation (by staff) regarding the campervan when we collected it from Christchurch were excellent. Gas/electric heating, cooking and toilet facility all worked well. We found all staff members to be very polite, friendly, helpful and professional. They could not do enough for us.
05/06/2017
Easy access and staff very pleasant. We had a great time, we went from Queenstown to Bluff, 3 nights. Then back to Invercargill, for 2 nights around the Caitlyns and back over to Riverton, for 1 night. Then onto Te Anau for two nights and back to Queenstown. Great trip
05/06/2017
Alls good Lyle Wilcox.
05/06/2017
We had a great trip using the discovery motorhome as it allowed us to stay in many and various locations whilst providing great viewing aspects for all.
02/06/2017
Discovery Motorhomes were first class, absolutely brilliant to deal with, very easy to book and so helpful. Pick up from Jucy was a bit slow, to many people picking for staff on hand, the did give us a loan car to do the shopping with while we waited though.
31/05/2017
Will do it again
27/05/2017
Thank you to the staff both at pick up and drop off, you made the whole process easy. All told a great way to enjoy New Zealand.
22/05/2017
professional service
22/05/2017
Smooth rental process
22/05/2017
Staff at Ch Ch were great very helpfull even made up special power lead no problem all round great experience will use again. recommended cheers russ
20/05/2017
We thoroughly enjoyed our holiday and Mighty made sure that we were fully informed about our campervan before we set off.
16/05/2017
Every part was easy. And when we called with a problem, it was solved in about 10 minutes. Fantastic customer service! My daughter left her blankie at check out. Once we realized it, I called to see if they had found it. Within 20 minutes, it was located. Very happy little girl!
08/05/2017
Really good company to do business with. Thank you so much!
08/05/2017
We did have a nice holiday despite the odd hiccough. Hope the van is ready on time next time we go away. Thank you to all the staff at Jucy and Discovery Motorhomes.
24/04/2017
It was easy dealing with Discovery Motorhomes, from arrival time at the Christchurch airport until drop off at Queenstown airport.
18/04/2017
The staff were great, the transactions were great. Cheers
08/04/2017
really enjoyed our motor home experience
02/04/2017
Made for a fun New Zealand holiday
27/03/2017
Booking process and staff were really professional and took the time to go through everything satisfactorily. Our holiday was most enjoyable and we would do it again with the only change we would make would be the style of motorhome we would chose. We would not get the shower and toilet next time and rather have more space for sitting and sleeping.
18/03/2017
It was a great way to travel and staff were helpful.
08/03/2017
Loved every minute
25/02/2017
the customer service team were so efficient and made sure we had everything we needed which made our journey nothing short of amazing. we will be back soon ! thanks britz!
25/02/2017
good service and easy to book etc.
20/02/2017
The holiday in the van was a fantastic experience enjoyed every moment
13/02/2017
Will definitely recommend to others. No problem with the booking, friendly staff when collected and returned. Thank you.
13/02/2017
Lucky staff ( Christchurch)are EXCELLENT....great service ! Thanks
04/02/2017
Booking process was very easy all done online and paid before leaving home We were given all the information need before setting out from a very busy pick up point 1st motorhome holiday and we will certainly do it again Throughly enjoyed our 2 weeks having everything at hand, not unpacking and packing each move is wonderful
27/01/2017
Great way to spend time with family & experience a new country, sights & other travellers at your own pace. Would thorough recommend & do again. (Maybe with a smaller van & less family next time! ๐Ÿ˜œ)
22/01/2017
Very impressed with the service provided by Discovery motor homes. The staff member worked hard to secure our rental when the van type was in short supply for a peak period. Fast response to a couple of emails sent prior to hire was much appreciated. I would recommend to others!
17/01/2017
Overall for a vehicle that had done 400K on the clock it drove well. Fuel use was good. Service was great and the pickup/dropoff (to hotel on route to airport) was excellent!
03/12/2016
Had an absolute blast holidaying by camper. We will definitely be doing it again.
26/11/2016
Prices were very competitive and Discovery was very east to work with.
20/11/2016
I would rent again from Travellers Autobarn. Great service. Van could do with 2 blankets for spring weather. A grater would be useful. Everything else was perfect.
19/11/2016
Excellent service on pick up and return.
12/11/2016
Discovery Motorhomes also have excellent customer service!
29/10/2016
The whole experience was awesome
29/10/2016
Great van easy to drive and travel in with three women great time.
23/10/2016
We were checked out by Philip A and Emily. Nothing was too hard. Philip altered our booking without any problems. That gave us great confidence in the company. We will recommend to all your business. Thanks also to Deb and Philip at check in. That process was very quick. Well done. Ewen & Deb
22/10/2016
We had a stress free experience and everything ran smoothly.
15/10/2016
A great holiday around Northland. The transfers and admin stuff went smoothly. Only small problem was that on the first night we discovered we only had pillows and duvet for two people instead of three. Easily fixed with a tripnto the Warehouse.
15/10/2016
I was pretty happy with the booking process
15/10/2016
We are intending to hire again about this time next year and will be looking again at the same vehicle if it is available when we book. Discovery were very good to deal with, including an easy booking process and friendly staff.
09/10/2016
As we forgot a pair of shoes, the staff who attended our request was great in returning to us.So abliging. We had hired 2 vans and were very satisfied with all services and help we received. Will definitlely book with you again. Rae and Jim MaganI
09/10/2016
Same as last report. Fabulous
08/10/2016
We thoroughly enjoyed our holiday and would definitely hire a camper through you again.
02/10/2016
An enjoyable experience. Staff were polite and helpful. Will recommend to others.
01/10/2016
We did over 3500 klm in our Venturer. All in all it was a pleasant experience.
01/10/2016
The people at the pickup/drop off were wonderful. The Tom Tom was an awesome idea and worked extremely well. It was very easy to look after the van and it drove well too. The Big 4 parks we stayed at were very good. A terrific holiday.
01/10/2016
Great experience and nice to have our ..stuff.. with us. Scenery at Bay of Islands is superb and the freedom camping options were great.
18/09/2016
Fabulous way to travel, we had the motor home for 3 weeks and lived the convenience of travelling with everything you need at your fingertips and the option to stay in some amazing places!
08/09/2016
Stress free package is good.
04/09/2016
Campervan holiday was a first for us, in general it worked well but the floor space for moving around was smaller than we expected and took a little getting used to.
03/09/2016
great campervan very nice to drive we doing it again great holiday
31/08/2016
A great holiday. My husband and I really enjoyed the freedom to go where we wanted to and change our minds at the last minute if we wanted to.
27/08/2016
Our holidays were fantastic, the best way to travel around New Zealand is with a campervan, you can find all type the facilities for the motorhomes. The booking process is very easy and the people from discovery very helpful if you need to make some arrangements as I did.
22/08/2016
Discovery were fantastic to deal with and their Customer Services Team are top class. I would love to have a Campervan Holiday again, and when I do, it will be with Discovery!
15/08/2016
We had a very lovely time! New Zealand is a Beautiful place to visit...
11/08/2016
The service we received right from the start was so amazing, Sarah helped with my booking, question after question and was just super freindly and helpful. we definitly will be using your services in future. thank you so much!
08/08/2016
I had a wonderful month on my own in a 4 berth van around the South Island during Winter in NZ
07/08/2016
The booking process was very good. We felt that there was a lot to take in at book-in time, especially for overseas tourists. Our holiday went pretty smoothly taking in the West coast up to Cape Reinga and down the East coast through the wonderful bays.
30/07/2016
Queenstown pick up was very slack! we waited for them to serve us for over 15mins but could see 3 of them in the break room with their feet up on the table chatting. If we did not ask questions we never got told and the young lady who eventually served us when asked some questions commented I am not sure! She was however very friendly but as first time Campervaners she needs to have all the information for her customers. Booking process with team at Discovery Motorhomes was good.
28/07/2016
Insurance excess reduction costs are too high.
25/07/2016
The experience of both picking up and dropping off the van was excellent. The center is state of the are in Christchurch and the staff were efficient, knowledgeable and very friendly. Thanks very much for a great motor-home that helped us have a terrific family holiday.
25/07/2016
we enjoyed our trip.
24/07/2016
staff very friendly and helpfull
23/07/2016
Service at branch was okay, but could have been a lot better
21/07/2016
breakdown service was efficient minimal time lost option of having extra blankets was bonus due to cold weather overall very happy hope to use next holidays
17/07/2016
would do it again tomorrow if i could.roll on next hoildays.
09/07/2016
Loved the camper experience. Would recommend
29/06/2016
We had a memorable trip, the New Zealand countryside is quite amazing, the people very friendly and helpful and the motor home proved to be a very effective way to tour. We plan to return in April 2017 to explore the South Island.
27/06/2016
Would definitely use Discovery Motorhomes again! Extremely easy to deal with and the staff were awesome. We had a great holiday!! Lee & Julia Golding Christchurch
24/06/2016
excellent staff to assist with both pick up and drop off. Have used before and will again
11/06/2016
AA support was excellent :) when we needed help to deal with those side doors - yahhhhhhhhhhh:) Booking process easy and phone support quick and painless with no stress Would do this again :) THANKS
11/06/2016
A great company to deal with. The whole process was painless and made our holiday from start to finish very enjoyable. We would most definitely hire from this company again.
04/06/2016
I loved every moment that we were away and I could definitely see myself returning to hire another vehicle off you company
04/06/2016
I loved every moment that we were away and I could definitely see myself returning to hire another vehicle off you company
01/06/2016
Pickup and return was. Smoth and staff very helpful. Well worth paying $250.00 for quick drop off
28/05/2016
we had a great trip and will definitely do another trip in the near future. Relaxing stress free and most enjoyable, have recommended to our friends and family
22/05/2016
We so enjoyed our first motorhome experience that we intend to do it again in October. Thank you so much Discovery Motorhomes.
21/05/2016
Would definitely book Discovery again!
14/05/2016
Great booking system and a great deal, thanks!
11/05/2016
I would certainly recommend or hire this model again in the future really nothing you need to bring except your personal clothing and equipment . Booking process was a breeze.
07/05/2016
Enjoyable holiday our first experience in a campervan. Next time we will go for a larger one as we had so much fun.
07/05/2016
The staff were great, very helpfull
07/05/2016
Custome rservice was excellent, no issues whatsoever.
07/05/2016
Booking process easy, great email reminders when things were due. Excellent center response to enquires. We will use you again.
03/05/2016
The whole process from booking, to contacting you, then the process in getting and returning the van was excellent. We would definitely use your services again.
30/04/2016
would recommend to anyone and will be back to tour the south island in years to come
30/04/2016
Enjoyed exploring the South Island in a very comfortable way.
26/04/2016
Pickup and drop off were very smooth
25/04/2016
Drop off procedure was hassle free. Include information on which campervans can be fitted with bike racks. Thanks
23/04/2016
Had a wonderful few days in the south island !
16/04/2016
Loved the freedom to drive, park and sleep wherever I decided to go! One day drove to a campground on the beach, plugged in, slept and woke up to a magnificent view on the beach. Another night, parked on the beach and viewed a magnificent view of stars through the windows. A camper van is definitely the way to go... And this one was perfect for me!
16/04/2016
Friendly staff, we were on our way in no time. Very informative, we asked for a few extra bit and pieces and nothing was to much trouble. Would definitely recommend this company
10/04/2016
We had a great trip, the weather was mostly good. The van looked after us well. Would go up the next size next time. Enjoyable.
09/04/2016
Pick up and drop off handled efficiently
09/04/2016
Overall, apart from having to replace the accessory battery the second day, we were very happy with the vehicle and camping facilities provided.
26/03/2016
Excellent experience re pickup and drop off.
21/03/2016
Enjoyable trip in this vehicle and good service from the company, will use again
12/03/2016
vehicle collection takes far to long apart from that everythings else was excellant
12/03/2016
The booking process was fine. the holiday went well and was very enjoyable.
06/03/2016
The booking process was painless. The van drove very well even given the fact that it had 220000 km on the clock. We got everywhere we wanted and enjoyed the trip very much.
29/02/2016
Very good service in Queenstown that change very quickly the incriminated fridge...
13/02/2016
Overall good experience. Staff at THL were outstanding - Thanks!
13/02/2016
The online be booking worked well and the process for beginning and ending the hire were efficient. A good introduction to campervans and would definitely consider hiring one again.
10/02/2016
We had a fantastic holiday in our campervan and we were sorry to have to give it back! We have already planned to come back next year and visit the places we did not have time to see on this holiday. Thank you for helping make our holiday perfect!
06/02/2016
Totally happy with the check in and check out process, quick and efficient with the online part done at home first.we though about a four berth next time for just the two of us, but on reflection, the Sprinter was easy to drive and very fuel efficient , allowing us more flexibility when freedom camping .
06/02/2016
The whole process was very easy, loads of information given, totally happy with our holiday.
30/01/2016
A good holiday which we will repeat
16/01/2016
Customer service was decent
04/01/2016
We are very satisfied with discovery motorhomes. We will contact you in future if we need a car .
01/01/2016
We had a very nice vacation.
28/12/2015
Service was great on pick & drop off
26/12/2015
Pick up and drop of process was easy and efficient, airport transfers super handy. Top stuff would use agian.
26/12/2015
First time hiring a campervan and so pleased we did. Had everything we needed. Could stop almost anywhere and for once we werent rushing to be anywhere. We loved and thoroughly enjoyed the 6 berth we hired. Thank you very much
30/11/2015
Dropping off the Van was quick and easy, however picking up took a lot of time. We arrived at their Auckland pickup shop at around 11.30am which seemed to be a very busy time. They have an exchange cupboard which you can leave any items (eg Cans, toilet paper etc) which is a brilliant idea.
28/11/2015
Loved the service. Fiona on the phone throughout the whole process was wonderful. The check in staff and check out staff were so friendly that the little wait at the start was no problem at all.
21/11/2015
staff fantastic
21/11/2015
All in all it was a great way to travel and would recommend it to anyone interested.
16/11/2015
Had a wonderful holiday, our first campervan experience and are now looking at purchasing one
14/11/2015
Our experience with Discovery motorhomes (and the holiday) was excellent - I would recommend it to anyone - and we will definitely do it again.
10/11/2015
Love traveling in a motor home.
07/11/2015
the staff were so helpful & as it was our first time using any type of campervan, they explained everything so thoroughly & answered all our questions. i wouldnt hesitate to do it again
04/11/2015
For 8 days I hired a 6 birth van to travel the North Island of New Zealand. What a fantastic way to travel. The convenience of being able to stop and stay where ever we wanted was amazing. All the equipment we needed was there at our finger tips. The Van was easy to drive and setup and pack up. The convenience of having dump stations located at most stops throughout our travel made the process a breeze. The booking, pick up and drop of process of the holiday was friendly and informative. Would total book another holiday with you guys. Thanks heaps. Rebecca
02/11/2015
Good experience
19/10/2015
Booking process was done well,pick up & drop off was no trouble.
19/10/2015
Booking process was good, the camper was spacious and cozy, the country is amazing. Love this trip.
17/10/2015
Easy to book , you should have a look , Beatiful NZ and massive Mt Cook
12/10/2015
We had an awesome holiday and loved the experience of seeing so much of NZ in a short period of time. Will definitely do it again some time.
11/10/2015
The booking was easy to do and pay from Australia. The staff were very helpful
11/10/2015
Bbq would be a good idea to add to packages also umberellas in the vehicle would be great.
10/10/2015
We are even allowed to collect earlier than stated time. Staff gave proper instructions on operating the campervan. Happy with the 2 weeks drive in it.
06/10/2015
Excellent service, thank you. Would use again.
03/10/2015
The holiday was awesome, it was handy having cooking facilities in board which made meal preparation easy.
20/09/2015
the booking process was quick and easy and our holiday was fabulous . Thank you
14/09/2015
Sarah was terrific. Our flight was late and your business was closed for the day but she knew we were coming and waited for us in her own time.She deserves a BONUS.
12/09/2015
Best way to holiday, hiring a motor home
06/09/2015
Satisfied with Britz motorhome, would use again if given the chance :-)
05/09/2015
We had once a problem with the Fridge. Just one call and evrything was allright... Great service and friendly stuff!!! Thanks a lot for the nice time!
29/08/2015
Great experience ,friendly staff,explained each and everything about the vehicle.highly recommended
26/08/2015
Paul who assisted in this booking was excellent and went out of his way to assist with our dates and requirements. Will definitely use again.
24/08/2015
Great all-around trip and the best way to do a multi-stop trip!
24/08/2015
Great price, condition of vehicle and would definitely do it again. Thanks
24/08/2015
A memorable trip, absolutely no difficulty en route.
23/08/2015
One of our best holidays ever. We are already planning a tour of the West Coast and North east cost of the SI. Thanks
19/08/2015
Britz was professional and next time we will choose Britz for our future camping trips.
18/08/2015
Service was 10 out of 10. The young lady who looked after us in Queenstown was amazing. She was clear, gave us lots of tips, definitely management material. Rye assisted us in the operation etc, he was very helpful as well. Well done all round. Great service and product.
15/08/2015
Thank you so much Pam for your excellent customer service. All info and instructions given by you were very useful and it made our trip go perfect. Love your work 😊
15/08/2015
great vehicle great service
15/08/2015
It was 10 days of fun lfound that it suited my needs at the time . rate was good. I am looking for a bigger one w/c shower mid Oct to mid Nov sth island. Any ideas
15/08/2015
Truly enjoyed. Thanks
13/08/2015
The booking process was very easy and it was great that i was able to contact someone through the chat line when i had questions. Fiona at discovery motorhomes was friendly and helpful and i appreciated her help. The holiday itself was fantastic with great places that we visited and stayed. Thanks again and will definitely book through you again. Pam and Trevor
09/08/2015
We had a blast. Thoroughly recommend motorhoming to any traveller. The only way to go as far as we are concerned.
01/08/2015
A very good size for parking and living in,and was in a very clean condition on pick up
21/07/2015
Easy to Book on website
13/07/2015
Check-in and return in Christchurch took much longer than expected - their seemed to be not nearly enough staff to deal with either process. We were left waiting for 30 minutes until someone could help us with the collection of the vehicle, and waited 20 minutes to be attended to when returning the vehicle. The staff, when they finally got to us, were just great though, friendly and helpful!
11/07/2015
Great service given by the team at Discovery Motorhomes
05/07/2015
Booking process OK. Onsite info/reception area had a temporary feel and was COLD. More accurate info on how to find the courtesy coach from the airport is a must
26/06/2015
Best holiday we have ever had as a family of 5 and cant wait to do it agian. Wish campervanning was a bit more affordable in Australia so we could do more trips.
20/06/2015
It was our first trip in a camper van it it was an awesome! Around 3000kms in 10 days. Way too short and I think I have inspired a couple of friends to do the same.
13/06/2015
We had an incredible holiday and were happy with the ease of booking with you guys and will certainly use discovery and britz again.
30/05/2015
Booking through Discovery was very easy. The staff at both Kea and Discovery were helpful and a pleasure to deal with.
25/05/2015
Very happy with rental, easy booking process.
19/05/2015
An essential part of our enjoyable holiday in N.Z. Service from Discovery and Britz good. Did have initial poor response from Britz 24 hr road service to the chipped windscreen saying it should be OK and to continue. When we took it to a repairer they agreed it had to be done, and Britz paid with no quarrel.
09/05/2015
The staff at auckland pick up point were extremely friendly and accomodating and a great credit to your buisness. We will hire again and recommend Discovery to our friends.
03/05/2015
Thanks for being part of the reason why our trip to New Zealand was so memorable.
02/05/2015
Look forward to another mini holiday in a camper ! Regards, PJ and Jelte Drijfhout
27/04/2015
Drop off was fast and simple.
27/04/2015
Clear easy instructions helped us as first time campervan travellers. Booking process was easy and the holiday was fantastic. We will be doing this again.
27/04/2015
The Tourist radio guide was helpful.
27/04/2015
The tourist radio was really useful, althogh the MacPac adverts were a little overwhelming.
27/04/2015
it was a wonderful easy holiday - felling home on the way, thank you!
25/04/2015
Overall was excellent the pick up and drop off very easy and quick
18/04/2015
perhaps a step stool of some sort to get in and out of the camper especially from the side door behind the passengers side apart from that we were pleased with everything would definetly recommend this 2 berth Alpha campervan Thanks discovery
18/04/2015
We will back to NZ and hire the same Alpha 4 berth, is a home on the move , you just have to make enough shopping and the rest is enjoy your little home.
13/04/2015
Very happy overall
12/04/2015
booking was easy.holiday was superb. pricey but great way to see the country.
12/04/2015
The pick up process was easy and painless. Will definitely be back, just need the time off work.
11/04/2015
We had a magnificent stay in New Zeland and travelling in a camper van is the way to go ! Cheers, Marc
11/04/2015
A great holiday to enjoy the wonderful sites of the north island. would for sure hire one of these again in the near future and the team were very helpful and friendly to deal with. Thank you for making it an enjoyable trip and experience. Two thumbs up and 5 stars with a big hand shake to all
11/04/2015
very happy with the service. booking process was easy and we had a great holiday. thanks very much.
04/04/2015
we will be back.Thanks for all your help
30/03/2015
Very comfortable but as there were only 2 of us in a 6 berth van it would have been beneficial to have a small table between the bench seats behind the drivers cabin and to be able to turn the first bench seat over to face the second bench seat.
30/03/2015
We have a great holidays , looking forward to do the same on the North Island in the future.
28/03/2015
Thankyou nice easy booking and directions will definitely recommend and do again.thankyou so much.
21/03/2015
booking process very helpfull and didnt take to long. cheers John. ps thanks for the $50 hope i get a chance to use it !?!
14/03/2015
The booking process was flawless and the staff went over and above the call of duty Very helpful in every way.
07/03/2015
People during chck-in and specially at the check-out were very professional, but very kind and caring. We love NZ andt really enjoyed this experience.
28/02/2015
Booking was good. Pickup was good and drop off was really good as well. Loved it.
28/02/2015
booking was easy. collection of vehicle was very easy & quick with friendly staff & clean facility
12/02/2015
solar panels on the roof might have supported the batteries allowing more flexibility in Department of Conservation campsites - they were in some of the most beautiful locations
09/02/2015
We both had a great trip, we will book this again sometime
01/02/2015
Just loved this van. It is perfect for a couple. We travelled around the South Island of NZ for 12 days in it and were very comfortable We are looking forward to touring the North Island.
20/01/2015
Easy booking process. Amazing holidays!
11/01/2015
The booking process was reasonably straightforward and the staff very helpful. The campervan experience was fantastic and we would definitely do it again. One suggestion would be for an additional set of bed linen, especially for a three week holiday.
04/01/2015
Booking easy, pick up and drop off good no problems
04/01/2015
There was a problem with the original booking which meant that we had to change vehicle and lost a night camping, however, the way the issue was dealt with by customer service was excellent and it did not sour the experience at all.
03/01/2015
Booking process was excellent and I received answers to my follow up questions by email very quickly. I would definitely use this company again when booking a campervan.
02/01/2015
We will recommend you to everyone. We are in hospitality, running a timeshare lodge. All staff were helpful and friendly Thanks
29/12/2014
Liked it a lot.
17/12/2014
We enjoyed our holiday very much. The freedom camping we enjoyed the best. It was good to have a properly provisioned vehicle to do this and leave nothing behind but wheel tracks.
14/12/2014
Booking process was very professional would recommend discovery motorhomes to our family & frineds
08/12/2014
Would hire again The staff were very helpful.
08/12/2014
More frequency of airport pickups / drop offs would be good. Every 1/2 hour is too long.
06/12/2014
The holiday experience we had was excellent, thoroughly enjoyed the freedom of campervan travel. All in all the holiday was excellent, and the experience with Discovery was really good, we will definitely be having a further campervan in the future.
06/12/2014
Good way to travel around New Zealand. Camp grounds were comfortable. Would travel this way again.
29/11/2014
Our experience with the motorhome was great. The company was excellent and the trip was fantastic.
22/11/2014
We had a great holiday van was better than expected a very good Service 10 out of 10 Geoff
22/11/2014
I had just arrived from a 7hour flight so was happy to not be kept waiting around.My vehicle was in good order and ready to go.I had booked on line so I wouldnt be waiting and was very pleased at the service.I will definately use your company again.Thank-you. Barbara Caldwell.
20/11/2014
Seeing NZ from a campervan is *the* way to go. Looking forward to doing so again in the not-too-distant future!
20/11/2014
Very comfortable campervan for driving during our 21 days travel throughout New Zealand.
17/11/2014
The booking process was simple and easy. No problems there and our holiday was very enjoyable in the campervan, thank you
17/11/2014
We would use your company again, Our holiday was great, dealing with the booking and picking up of the motorhome was a breeze. Have highy recommended your company to friends of ours already. Thankyou for making our holiday a great one.
15/11/2014
Will use again.
15/11/2014
The booking was all done on line and the girls were very friendly and informative. The check in and out we chose to do an express on line and it made it quite fast. All in all was an excellent experience and We will be back using you again.
08/11/2014
Easy booking process from the UK to NZ and collection and drop-off worked well. Staff were very helpful and the whole process was simple and efficient which was exactly what we wanted, thanks.
08/11/2014
very pleased with everything and would use the Company again
05/11/2014
We really enjoyed the experience. It was our first time in a campervan and we enjoyed it, so much that we will definitely do it again!
03/11/2014
Great holiday, seeing the fabulous South Island of NZ. Only way to see the country. Will definitely do it again.
02/11/2014
Very good used the top ten camp sites and they were very good too
30/10/2014
I found Discovery motorhomes very easy to deal with.
28/10/2014
Holiday was great. Camping easy. Good experience all round
25/10/2014
Excellent service, Had no problems at all. The shower space is very cramped and i would rather see less storage space and a larger shower, apart from that everything went well. Thankyou.
18/10/2014
The staff were helpful, and caring and made the whole experience easy. I would have no hesitation in recommending youservice tomy friends
18/10/2014
The booking process went smoothly. Pickup day was busy but to be expected as it was the start of holidays. Drop off was very easy also and the shuttle to the airport was great. We would recommend this form of travel to anyone . Thanks for the experience
13/10/2014
Great trip overall with about half of the time free camping and the other in Caravan parks. Even when free camping the Caravan Parks would let us use their dump points for NZ$5 so dump points where not an issue.
12/10/2014
We had a brilliant holiday in New Zealand in our motorhome. Had a bit of a drama when we blew a tyre, the support team were very helpful. Highly recommended!
11/10/2014
Staff support was excellent. Vehicle was clean and well provisioned.
04/10/2014
The booking process with discovery was very easy. On the day of pick up we arrived and were only there for 30min and we were ready to leave on our holiday. Would recommend Maui to anyone. A great way to have a holiday.
28/09/2014
Loved every minute. Wish I was still there.
28/09/2014
We had a fantastic time away.
27/09/2014
Overall given the fact on pick up day our processor was run off his feet we can only commend him for his diligence.
23/09/2014
Would definitely recommend Discovery Motorhomes.The service from Pam in the office was outstanding
21/09/2014
The booking process was very good, upon pick up and return.We will use you again..
20/09/2014
SUPER friendly staff
15/09/2014
Will be back to rent again. Thanks
15/09/2014
The Australian booking service was very helpful as was the Staff at CHC especially MELINDA and CHEN. We have recommended this company to our friends and I intend to use this company and motorhome on a return visit with my wife next year. We compliment the company on its customer service.
14/09/2014
The staff in the office were friendly and the service was quick.
11/09/2014
We had a great holiday touring NZ to this van, which suited us perfectly.
08/09/2014
Overall a very positive experience
06/09/2014
The whole process was very easy. Just book on line, pay the money, and pick it up. Cannot fault the process at all. Very easy.
25/08/2014
Excellent simple procedures for checking, and vehicle return. Helpful web site and the feedback section is great.Juicy c Has lifted to nealy cult status with other users we met and could yet become an Icon......well done.
25/08/2014
Pick up returns was well organised. Camper was clean and worked. Good holiday. Thanks
24/08/2014
highly recommended.
18/08/2014
I found the staff very easy to deal with and they were very helpful - have recommended to friends and will do again
08/08/2014
Collecting and dropping off the vehicle was excellent. Service was friendly and fast. Will recommend to friends. Many thanks for their service. Sandra Burns
05/08/2014
We had a great time the kids had a ball they were balling there eyes out when we left the van in auckland we all thouroughly enjoyed the experience we will be hiring again in 2 yrs time to do the south island
28/07/2014
Kids loved its and so did my wit and I
26/07/2014
Excellent service when inspecting vans prior to making a booking and great hassle free service at pick-up and drop-off time. Everything explained clearly and in detail.*****
20/07/2014
appreciate the way you pack bed sheet and blanket in a seal plastic bag and I feel like everything is clean properly. Thoroughly enjoy the experience
07/07/2014
Company was easy to deal with and arranging collection and return of the camper was very simple. Well priced off season and a great way to see the country
28/06/2014
We enjoyed our time driving around The north island.The staff at check in were very good.
28/06/2014
Easy to deal with. Very pleasant staff. Overall experience faultless!!
21/06/2014
Our time in the motorhome was excellent .We found the van to be spotless and had everything in it we needed. I would have no worries about recommending this company to anyone. We found the staff to be very pleasant and helpful.
14/06/2014
Yes I would recommend to everyone to experience a holiday in a motorhome.
09/06/2014
Easy booking process. Everything so simple - pick up, drop off, no problems.
02/06/2014
A great way to travel New Zealand
31/05/2014
very friendly service .bit of a mix up who to go to on arrive .
31/05/2014
We thoroughly enjoyed the trip and wish now we had of booked for 2 weeks instead.
22/05/2014
Service excellent, particularly at the airport depot. We will reccomend, and use again.
15/05/2014
Customer Service was great! Shuttle collection was quick and driver chatty and funny. Highly recommended.
12/05/2014
enjoyed the campervan experience and thought the set up was effective
10/05/2014
In overal it is a reliable vehicle and very practical for touring around NZ. Love the patient and assistance by Discovery staff particularly Fiona through my searching period. Thanks again and certainly will be in touch again. Recomanded to friends.
05/05/2014
Thank you so much to the whole team at Discovery, we had a fantastic holiday and will definately use your services again in the future. Thank you The Stevenson family
05/05/2014
The booking process went well & the customer service lady at the Auckland office was very helpful & patient with us first time campervan users. Thank you!!
05/05/2014
On the whole we were pleased with our camper van. We enjoyed the experience of holidaying in a campervan and would certainly do so again.
05/05/2014
booking process was quite good. Pick did take some time, although it did seem an exceptionally busy day. (Bottle of wine enjoyed) 6 berth for 4 adult size worked well
03/05/2014
Had a great time
03/05/2014
We enjoyed out trip in the Condo and are planning our next adventure , with a Condo of course!
23/04/2014
Overall very happy with booking process. We had the van for 10 days, drove from Auckland , down the east coast across to New Plymouth and up the west coast back to Auckland.
19/04/2014
Good service despite delay on pick up..much veryaccommodating on a late return easy drop off!
14/04/2014
Fantastic company to deal with.
12/04/2014
Staff quite prompt in pick up and drop off. Good. Cheers.
12/04/2014
The booking process was online..easy and fast. All the information I needed was on the website so I was able to compare with other companies. I wanted to pre-order groceries, but was unable to from Queenstown..disappointed.
05/04/2014
Really like the employees
05/04/2014
We had a fabulous holiday & the campervan gave us the freedom to go where we wanted, when we wanted with little planning ahead.
05/04/2014
The booking process through Discovery was faultless.
05/04/2014
We were impressed by the vehicle with the opportunity to sightsee what ever took our attention at the time. We saw much more than on a tour guide.
27/03/2014
Great holiday. The campervan concept gave us fantastic freedom to explore the countryside & keep away from the madding crowd. Not particularly an economical holiday but extremely relaxing. Great.
26/03/2014
Very good vehicle, we have hired the Kea transit on a previous holiday which was good but the extra space that the VW crafter offers certainly adds to comfort level.
09/03/2014
Really enjoyed our holiday. Started off with the train from Auckland to Christchurch and then to the Motorhome for the next 3 weeks. Down to Queenstown and finished at Auckland. Recommended.
04/03/2014
Easy pick up and drop off, lovely staff all relaxed and not anxious so felt comfortable taking van away
02/03/2014
Overall an excellent experience and wonderfull staff members. Thank you
22/02/2014
Booking process was reasonably quick but efficient especially using online checkin We enjoyed our trip and would not hesitate to use a similar van again.
22/02/2014
Excellent service and facilities. We had a great time.
22/02/2014
Staff was very polite and quick to respond when I asked a few questions about an infant seat for the campervan. Would definitely hire with them again.
15/02/2014
It was just as we expected. And the staff was wery nice. If we are going to rent a caravan we would for sure pick you.
09/02/2014
Service was good at pick up and return
08/02/2014
Booking process great and check in people great. No waiting, pick up from airport ,no hassles when returning. Lots of maps and great tourist info.
08/02/2014
Pick up and drop off were very efficient and friendly. Would have no hesitation in recommending to friends based on quality of product and service though some may find the price tag too high. We,however, were thoroughly satisfied.
26/01/2014
Great holiday to Rotoura. Working with discovery motorhomes was very easy.
21/01/2014
We had two kids and two adults, I would look for something with more room next time.
19/01/2014
Pretty good loved my holiday just hard to find freedom campsites.
18/01/2014
A good experience, would use company again. When we did have a problem they were helpful.
07/01/2014
we did enjoy our journey!!!
29/12/2013
This was one of the best holidays we have ever had. We just loved NZ and will definitely come back. Would have no hesitaion in thoroughly recommending any other would be travellers to rent a motorhome via Discovery.
28/12/2013
OVERALL WAS GOOD.
21/12/2013
A good experience. Maybe, consider supplying a step to get in/out if vehicle? BBQ an excellent feature. Very efficient pick up and drop off.
14/12/2013
I would highly recommend all aspects of the Discovery team and staff at the Queenstown Jucy Rental team especially Louise who was extremely helpful - thanks again.
10/12/2013
could have used a long handle broom :) thats all!
09/12/2013
Good experience for the family.
09/12/2013
This is our first time driving a campervan. Excellent experience! Vehicle is well equipped for the wilderness experience!
30/11/2013
Quality service - from then moment we arrived at the Christchurch depot till we left - A-1. Same for the Aucland depot - efficient and friendly service. We would definitely recommend your company to friends.
18/11/2013
Service was good particularly on return
18/11/2013
Service was good
05/11/2013
Staff were friendly and courteous, with a pretty quick pick up & drop off. Courtesy shuttle which was appreciated. All in all excellent value for money and a wonderful experience.
02/11/2013
Fantastic holiday
30/10/2013
Collection & handback were very smooth. Staff very friendly and helpful. Would certainly consider booking again.
16/10/2013
Overall we were happy with the vehicle
12/10/2013
i would like to rent the same campervan for my next holiday, i will recommend my friends to rent cars from your website.
12/10/2013
good experience will do it again
12/10/2013
we had afew small issues, I phoned and everything was sorted everytime, thankyou so much to you all we had a wonderful time and hope to do it all again with you soon
12/10/2013
We had a great time with the Condo, maybe a gps would be a good idea in these vehicles? Alays make sure you have enough fuel when venturing into the unknown lol we arrived in Bluff thinking surely there would be a gas station...there was 1 but it was after hours 6pmsh and it was closed! Petrol light came on when we arrived, but the people at the dairy said we should make it to Invercargill with the light on...we did, luckily! otherwise a great time was had and we will do it again one day :)
05/10/2013
I would book the same model or similar (Mercedes) again. The entire booking preocess was easy and efficient. The staff at Christchurch were excellent too. In the two week hire I did 3200km and had no issues at all with the motorhome. This was the first time me and my wife had been to NZ and we had a wonderful touring holiday. Thank you very much indeed
30/09/2013
Overall we had a great holiday and thoroughly enjoyed our journey around the East Coast. White Island is an amazing place to visit and everyone we met on the trip was very welcoming and the camping grounds were all clean and well maintained.
28/09/2013
Booking process was fantastic. Vehicle itself went extremely well and was very comfortable. We were thankful for the gas heating as it was extremely cold some nights (Taupo) Overall experience very good, thank you and we had a great holiday!!
28/09/2013
Set up handover from staff was thorough and comprehensive - detailed! Really enjoyable 2 weeks holiday - we could go wherever we wanted whenevr we wanted.
23/09/2013
Booking went very well without a hitch. Excellent service
22/09/2013
We would happily use Discovery again if we needed a campervan in NZ. Friendly service, good price and great shuttle drivers!Booking was easy, holiday was great. We got to do what we wanted to do without any problems.
22/09/2013
The only drawback was amount of time we lost when picking the vehicle up
10/08/2013
Friendly service makes the whole process great - from the airport pick up, to reception to check in. Return process just a quick and easy - thank you.
10/08/2013
Efficient, kind booking process. Impressive customer caring attitude post return van like lost property
03/08/2013
Excellent all round.
03/08/2013
Enjoyed the experience. Would do it again!
03/08/2013
The staff at the Auckland depot were very helpful and processed our booking promptly. We were given a detailed "tour" of the vehicle with everything explained nice and clearly before we took delivery of our camper. The 2 berth camper had everything we needed other than our food for our two week holiday and the equipment was of a high standard for the age of the camper. It was easy to convert the dining area to a bed each night and just as easily quick to dismantle in readiness for our daily travels. The Mercedes Benz Camper was easy to drive and I found it very maneuverable despite its size, compared to the family saloon car I usually drive. We had a wonderful holiday, un-rushed by deadlines and had no bother booking in at any of the Far North campsites we stayed at. I can recommend this Camper to any couple who want an economic holiday for a week or so.
06/07/2013
Every move was perfect
18/06/2013
Would definately hire again- in fact thinking of doing so later in the year!!
10/06/2013
Booking and collection was so easy, and the premium package was well worth it.
08/06/2013
Will use again and have recommended to friends
01/06/2013
Company good to do business with,pick-up, introduction to vehicle, roadside assist and drop-off all done very efficiently,bond return done on spot.
24/05/2013
The staff at both auckland and christchurch offices were friendly and helpful, efficient and courteous. Once again thanks a million :)
28/04/2013
The Van drove well and was comfortable to travel in, the airshow at Omaka was brilliant as was the museum. This was one of THE best holidays I have had in many a long year. People were friendly and approachable, especially away from the tourist routes. We chose to eat out on 3 occasions & the food was excellent ( green lipped mussel soup, fresh Crayfish, roast lamb rump, but not all at once !! :<)) All the DOCs campsites we visited were well kept and clean. The scenery mountain-scapes & views were glorious. Please keep in mind we were traveling the South Island only for 16 days. As a holiday destination, for those that want to lose the rush and enjoy the quiet it is a 9 out of 10 & if we had, had an additional week it would be 10/10.
27/04/2013
The camper van was convenient and had all the basics required for a great holiday. Booking process was great more than helpful . The camper van holiday was some of the best fun we have had for ages and will definitely book again to do the north island.
18/04/2013
all good very happy,
13/04/2013
We had a great time. Booking was easy and when we returned it was in and out.
06/04/2013
Booking easy, and the girls great to deal with.
27/03/2013
Katie & Melinda was just superb in helping, assisting us both at the time of pick up and drop off. Perfect front office skills.
23/03/2013
Booking process was fine, pickup and return procedures were efficient and effective. Overall, holiday was excellent.
09/03/2013
Good service at both ends of our trip
04/03/2013
Overall we are very glad we chose a Juicy Condo. We had a great time.
02/03/2013
We love it and will continue it next time.
02/03/2013
We love NZ! we will continue to go to another country with discovery.
25/02/2013
We had a lovely time thank you and will be back for more The staff that we did speak with were very friendly
23/02/2013
Great customer service.
16/02/2013
Great service with no hitches at all.
11/02/2013
Thoroughly enjoyed travelling on the camper for the 17days we had it, would definitely do it again soon. Freedom camping rocks and so does the east coast! Thank you Kea for giving us that opportunity to experience freedom camping mobile! Dreams can come true!
04/02/2013
This is the first time we have rented a camper-van. This occasion was for our son and his family to use while we followed in our own camper-van. This was a good opportunity to compare our ownership costs against rental costs. At a quick glance the rental plus insurance costs may appear to be more expensive than owning a camper-van. That may not be so. Renting has many advantages over ownership, one being not having to outlay the cost of purchasing a camper-van and some disadvantages like the convenience of ownership. In our case the rental plus insurance costs hiring a Mighty Double up camper for 11 days was very good value. It was also a pleasure dealing with Discovery Motor Homes. Regards Don Knowles
03/02/2013
Great holiday and would do it all again quite happily.
02/02/2013
All in all we enjoyed our short stay in the south and great places visited.Thank you Mighty for been our car/home and restaurant...
29/01/2013
faultless experience with vehicle and rental staff, will use them again
26/01/2013
we had a great trip travelling up to Whangarei on the East coast from Auckland visiting a lot of beaches on the way then heading across to the west coast to Opononi visiting the Kauri forests then heading to Kaitia then down the West coast again through to Auckland. Scenery outstanding everywhere.
26/01/2013
Absolutely loved our trip. The girls who checked us in at Britz in Queenstown were fantastic, the van was great and the country was stunning. If only it had been a little warmer it would have been perfect!!!
26/01/2013
Next time I will book a larger van, more space for an easier life! Thanks for all your assistance the holiday was great.
19/01/2013
Really great set up. Everything was of a high standard. Only suggestion - would have been good to have a step for the side door as it was quite a drop - hard on the knees. Will definitely hire Maui again
15/01/2013
Great trip overall.
03/01/2013
Overall we had a great time. And we were pleased the name BackPacker had been changed to Mighty Campers - good move, guys.
22/12/2012
vehicle recommended to all travellers
19/12/2012
Booking was easy and straight forward no hidden extras.Friendly and courteous staff and great to have a shuttle service to and from the airport.I have no hesitation in using Discovery Motorhomes for my next travel booking.
16/12/2012
Overall it was a good experience.
15/12/2012
Service by agents was absolutely perfect. Very thorough and friendly walk-through of the vehicle. Very open and honest advice to questions and concerns. Plenty of linens, blankets, pillows and towels provided. Complementary tourist radio, maps, and accommodation guides very helpful. Overall much better than expected experience, and one that is worth doing again with Kea.
11/12/2012
The booking process was simple, straightforward and all the staff we interacted with were very friendly and helpful.
01/12/2012
Loved the whole trip in our camper van (Rudy), it was comfy and well set out. We wanted to take Rudy home with us. Handled the road conditions beautifully and very good through the mountains.
24/11/2012
Would book through discovery again, had no problems & everything went very smoothly.
23/11/2012
Very happy with everything, not a complaint to be had, service at time of pickup and drop off of an outstanding quality, staff very friendly and helpful
14/11/2012
Service from Discovery and United Campers was fantastic. All staff were very friendly and helpful. Highly recommend to others planning to travel.
12/11/2012
Excellent customer service. Mechanical issue that did arise was fixed immeaditily with no hassles.
04/11/2012
that was very good trip the van was in very good conditions, thanks discovery
03/11/2012
Details of our trip can be found on our blog at www.vicandpaminoz.wordpress.com
27/10/2012
The booking process went smoothly and we were away fairly quickly from the depot.We had an enjoyable time driving around the lakes district of the South Island of New Zealand. We would be happy to hire the same type of vehicle again.
20/10/2012
nicely set out
15/10/2012
Clean and well presented
14/10/2012
Regarding the vehicle booking and staff at pick up and drop off locations, they were both excellent. The process was quick and easy to understand.
13/10/2012
Booking process and pick up is excellent. United/Alpha reception is very helpful and lounge is vety welcoming. Will book again but next time will go with an upgrade.
13/10/2012
Really enjoyed the 9 days touring.For a older vehicle it went really well. And the price per day very very good .Thank you. We will book with your company again and tell all our aus & nz friends about the GREAT DEAL for this time of the year.
06/10/2012
Service and introducting the motor home was good
22/09/2012
really enjoyed the camper didnt have any problems. great service at pick up and drop off
19/09/2012
very helpful staff everything was just spot on
09/09/2012
Service was excellent
09/09/2012
For me, this is the only way to have a holiday, no time frames to get back to a motel etc. We had a awesome 27 days in the camper-van, the booking process went well and the dealings I had with the staff were excellent.
08/09/2012
Excellent service at KEA!
23/08/2012
It would be a pleasure to use KEA again,staff very helpful upon arriving and when vehicle was returned.Also I wish to say that my booking was carried out in a very friendly and professional manner,thank you very much,we will in contact again in the future.
20/08/2012
Had the time of our lives! Were on our honeymoon & the campervan was just great! Cooking facilities, toilet & everyone were great! I have quite a bad back & even the bed was amazingly comfy! Everything was great! Thanks so much!
04/08/2012
Service was fantastic. The phone operators were wonderful. The counter woman who checked in our vehicle deserves particular praise. She was so friendly.
28/07/2012
It was perfect. Exactly what I had hoped for.
24/07/2012
This was the trip of a life time for me as it was with my two grand daughters. Over all a huge success. We did this some years ago with my daughters and all the good memories came back with this trip. I hope they will remember it always. I certainly will. I had not seen my grand kids for three years so this trip will always be special. Thanks for your part.
23/07/2012
A fantastic holiday, really enjoyed by all. We would have no hesitation in booking the same camper with the same company next year. The great service was appreciated.
21/07/2012
Excellent for travelling around and for parking.
14/07/2012
Excellent. Thanks very much
19/06/2012
helpful service and quick pickup and drop off
16/06/2012
The booking and customer service was fantastic. Very organized and friendly. The booking in video was a little drawn out but might be necessary for some. Thanks
09/06/2012
All went smoothly, great customer service, everyone very helpful and informative. Easy pick up and return.
28/05/2012
will do this again
27/05/2012
the team at Christ Church were great and explained things well,will look forward to next year,our holiday was fantastic,lots of good camper parks will be back to the SouthIsland next year but will stay longer than 10 days!!!!
23/05/2012
On line booking, pre-registration and phone contact prior to pick-up was very good. No pick-up from CHCH airport (travelling with 4 children). We would definately choose to book again and a decrease in the time waiting for a vehicle would be brilliant!
19/05/2012
We enjoyed our holiday immensely, the staff were attentive and the booking hassle free. Would recommend 100%
12/05/2012
The booking process was good. There were delays when we arrived to pick the vehicle up. The service we received when we returned the vehicle was excellent.
08/05/2012
We all enjoyed a great family holiday,Lovely to spend time with family. Thank you so much. Awesome to look around New Zealand too,been waiting 49 years to get to Cape Reinga.
06/05/2012
The service was great on either end of the trip, too.
06/05/2012
Good service at airport and depot
05/05/2012
Great holiday and a fantaastic way to see New Zealand would definately do the same again.
05/05/2012
Great staff at Sydney and Christchurch will travel with you guys again.
01/05/2012
all staff are friendly, including booking, pick-up/return & courtesy bus driver. Thanks Tong from Sydney AU
30/04/2012
Really great way to travel. The staff were very pleasant and instructions were clear. Beds were very comfortable and we had a very good holiday. We look forward to our next roadie!
30/04/2012
Service and processes were very good, no complaints.
29/04/2012
had a fantastic holiday, supporter by great camper can and service! Hand towels and washing up liqueur would have been good but these are nit picking moans. Booking service was excellent!
28/04/2012
The booking of-, picking up- and returning the Campervan, went all very smooth with very helpful and friendly staff.
28/04/2012
Had a great time in new zealand,its the fifth time hear and we love it and now have a resident visa !
28/04/2012
Friendly, helpful staff who were ready to make adjustments to our booking with no problems.
24/04/2012
We had a great time and the vehicle performed faultlessly. Next time we will get one with a toilet/shower and a bit more storage room
22/04/2012
Will definately book again for next Easter and for any other holidays we may take. Way to travel, stress free, happy as. Thanks again.
21/04/2012
Booking process easy
21/04/2012
Overall a great holiday with no real complaints. Would definately use again.
16/04/2012
what an exerlent company and deal we had, we will definatly be using your company again for all our holidays to NZ
14/04/2012
The staff at Britz were helpful. Day one, hour one we had a smashed window from a passing truck! Organised a fix straight away and thank god for full insurance, this is a must..
07/04/2012
Sevice overall from Alpha was vey good. It would be helpful to give a little more detailed briefing on the engine breaking system during the pick up process. Otherwise the overall experiance was most enjoyable and we all had a great month travelling round New Zealand.
07/04/2012
Otherwise good.
02/04/2012
Just loved out time in it.Will rent again.
31/03/2012
It has been an experince of our life. You have the most wonderfull country. and we would like to come back another time.
26/03/2012
we had a really good holiday in your van and it was very reliable and comfy--thank you
17/03/2012
All over we were extreamlly pleased with our vehicle and the service we recieved thankyou from one very happy customer :)
11/03/2012
We really appreciated the first class and friendly service that we received from our tentative first enquiry through to collecting and returning the van. Shuttle bus to airport was a bonus.
11/03/2012
very enjoyable
10/03/2012
Would use again enjoyed holiday - thank you
05/03/2012
Booking process went smoothly.
29/02/2012
I took advantage of completing the pre booking info and was able to pay in full before we collected it. This sped up the check in process. The only slight negatives were that the tv aerial was broken and the camp table we hired was also broken. Otherwise we were very happy.
29/02/2012
A campervan van experience in new Zealand is a must. Check out the DOC campsites for amazing scenery and value. Jucy could have given a little more practical advice like this when picking van up.
04/02/2012
Had a great tour of the North area of the South Island, which was enhanced by using Tourism Radio. Thanks for this.
01/02/2012
Fantastic - everything you need for an amazing trip around NZ
28/01/2012
In line with our expectations Very good support when we caught the CV and when left it
28/01/2012
it was better than i expected! the bed was bigger than i expected and it was pretty roomy! every cutlery was brand new as well, which we appreciated. (:
21/01/2012
Really well appointed fantastic customer service and support. Would totally recommend traveling this way and would be surprised if anyone can beat kea
14/01/2012
Booking process excellent, representative Kirstie was knowledgable, helpful, professional and friendly.
08/01/2012
Great home on the road drove well very cosy and slept well every single night! If we were to rent a camper van again, would happily get a backpacker again. Thank youuu
05/01/2012
As mentioned exceptional service, the staff are a credit to the company and certainly something to be proud of. We can only speak highly. We wish you every success in the future and have no hesitation in recommending to friends and for ourselves in the future. The Shepherdson Family England. Thank you for the postcard Gudrun and a very Happy New Year to you all
01/01/2012
I would like to say thank you to to staff at Discovery motor homes as well specially to Kirsty in Brisbane office who assisted us planning and securing the KEA motor home and a rental car at last minute. Thank you Kirsty and we will contact you when we plan the next holiday. Wimal Kirinde
01/01/2012
Service was just reflecting th้ kindness and availaibility of people. Top service !
31/12/2011
Excellent service. Would recommend the campervan to anyone.
22/12/2011
This is our second time with your campervan, we really enjoy our holidays with your vehicle. Our first time the vehicle was a little bit old with few problems, but this time we have almost brand new . We plan our next trip in north island around Aug 2012 ,we are definitely will use your services again. We agreed to give you No. 5.
17/12/2011
Very convenient. Stress free. Fun.
06/12/2011
We recently had a rented VW small motorhome or campervan. Its the first time my husband and I have had one of these types of vehicles and we loved it. We actually loved it so much we are now looking to purchase one.
06/12/2011
Thanks for all the staff for their friendly support.
06/12/2011
We are on our way at last- so excited we are like kids on Christmas Eve. Thanks for all your assistance along the way. You deserve a medal. All the best from Janet and Melvyn
06/12/2011
Thank you, what a quick great service you offer. It makes a holiday very easy to organise and stress free thank you. Happy Christmas cheers Sarah
06/12/2011
Thanks for all your help. Had a great time and would recommend it to all. May do the same when we return to Brisbane. Thanks again. Cheers
03/12/2011
So apart from the small problems mentioned above we had a wonerful time, it was a holiday of a lifetime and we are coming back again in 12 months time to have another taste of paradise but this time in a van with out a shower or toilet, we had the van for 3 weeks and covered 3,400 kilometers and 1 week of that time we were parked up outside relatives houses so the actual driving time was just 2 weeks, so t,t,f,n, and we will see you in 12 months time
07/11/2011
Superb overall equipment, matches, everything I could want. Excellent, thanks.
30/10/2011
Excellent vehicle as it allowed us to free camp in some fantastic spots well away from crowds. Just needs a colander added to the utensils!
10/10/2011
People were extremeley helpful and nothing was too much trouble for any of the staff. Would certainly use Discovery motor homes again and would reccomend to my friends
04/10/2011
All the camp grounds were great, clean & well serviced. Some had meters for the showers which was excessive but otherwise no complaints.
26/09/2011
Overall we found the van to be very good. A great way to se New Zealand
22/09/2011
When we encountered problems with the refrigerator the service we received was top rate. Would hire Backpacker again
16/09/2011
Booking via the internet was done easily. An excellent holiday in a beautiful part of the world. My second visit and I sincereley hope not my last. The company were extremely helpful at all times and went beyond the call of duty in helping us recover from our untimely accident. Many thanks to the staff involved. It allowed us to enjoy the remainder of our holiday. When I return I will be keen to use your company again.
03/09/2011
With the extra bedding supplied we stayed toasty warm even when the temp dropped to -4 to -9C overnight freezing water in the pipes etc.
03/09/2011
I will definitely be recommending Discovery Motor Homes to my friends and family. And our next adventure will be with you guys too. Thank you for such an easy no fuss experience, and the free transfers to and from or motel and airport. GREAT STUFF....
21/08/2011
we could not fault the service we received from Backpacker and would recommend this type of holiday to anyone.
20/08/2011
I was amazed at how well equipped the vehicle was from tea towels, to plastic containers. It was clean, tidy and there is absolutely nothing we could complain about with regards the vehicle. Peppy and easy to drive.
15/08/2011
We were pleased with the Maui Spirit 4. We would probably look at the larger version of the 4 berth camper next time.
13/08/2011
The booking part went very smoothly. The young man who served us both when we collected and returned the vehicle was most helpful.
07/08/2011
Very enjoyable. Easy for first timers to work out. Cosy even in a South Island winter.
30/07/2011
Was upgraded to a Maui.Great service allround.
30/07/2011
Booked through internet site discovery which went smoothly. Thanks Backpackers, from the moment we entered the office at Christchurch we really appreciated the friendly and helpful service on both the commencement and the end of our wonderful week away exploring the south. The weather simply could not have been better. We loved the abilty to pull up and sit in the camper looking out over some of the most awesome scenery in the world from our table in such places as Lake Tekapo, Moeraki and Akaroa. We have previously owned a camper in the UK but i never felt confident to drive there. Turning the big 50 whilst we were away prompted me to give it a go. I was delighted by just how easy the Quattro was to drive and thoroughly enjoyed myself. Only problem is now i have to go back to work to boost the savings up before the next trip.. THANKS again backpaker you provided everything we needed which ensured an excellent holiday.
23/07/2011
Kea picked us up from motel to go to collect our van and took us to airport as part of the service (nice bonus. We have never campervaned before and the family is already discussing the next holiday so the experience was a great one and I wish I had not taken so long to do this kind of holiday. The top 10 holiday parks were all good in Sth NZ and I would recommend them (all clean and well maintained), especially the Creeksyde in Queenstown (the ladies know all the tours to go on and happy coordinate your adventures for you)
18/07/2011
we had a fantastic trip
17/07/2011
kea were very good to deal with
17/07/2011
Will be booking the Elite again on our next motoring holiday. Had an awsome time despite holidaying in the dead of winter. Would recommend it to anyone
04/07/2011
If you intend on booking a motorhome make sure you ask about "Toutist Radio" if they dont offer, it was fantastic.
21/06/2011
We had a problem with our transmission and the team drove 2 hours to switch vehicles for us. It went off without a hitch and we will gladly recommend Discovery Motorhomes to others who choose to visit New Zealand.
21/06/2011
The booking process with Discovery was straight forward, which contributed to a great campervan holiday. I would do it again.
20/06/2011
The bookong process was sinple, easy and effective with good clear communication from all invloved. This enabled a smooth transition from flights to vechile with good clear vehicle use instructions including a dvd vehicle use guide before we set off on an exciting and relaxing break taking everything we needed including the kitchen sink! Thank you for helping to create a memorable holiday.
05/06/2011
excellent want too buy one
04/06/2011
Sumed up in one word Professionalism From our first phone conversation to being presented with a book of pics of NZ when we returned the camper We were so impressed with KEA ..& We will use them again. Everything was perfect from being picked up from the airport exactly on time-arranging the paper work-shown through the vehicle and the workings-even running through the roadcode to make sure we understood driving in NZ..To the German girl (sorry..forgot your name)..she was a credit to the KEA company.Well done and Thankyou...Ross & Avis (Brisbane)
23/05/2011
All in all a very happy experience. Very good organisation at both ends at the airport, good instruction on the vehicle, and very friendly. Would we do it again ? Very much so
17/05/2011
We enjoyed our holidays in the camper and are planning to return to NZ in two years or later and spend more time in this wonderful country.
14/05/2011 WE HAD A GREAT TIME DISCOVERING NZ SOUTH ISLAND, ITS HEAPS OF FUN, THANKS TO DISCOVERY MOTORHOMES,
THNAKS CHRIS
11/05/2011
The depot was excellent and we were treated very well by all of the staff.
08/05/2011
We were very happy with the service we received from the staff when we made our booking, picked up and dropped off the van. We would certainly use your company again and recommend it to friends and family. Thank you for making our holiday hassle free.
07/05/2011 We had an awesome time away and having the motorhome made it that much better, the easy and comfort of having your kitchen, bathroom and bed all in the one place made it a breeze....
Thanks guys.
07/05/2011 We will be highly recommanding you too all our family that travel home from over seas an want to do campervans.An my husband & I will be doing it again in the near future.
Thank you Deborah
05/05/2011
We had a fantastic week away in the campervan with a lot of laughs and we would rent again. The staff in Lower Hutt were friendly and helpful to talk to.
02/05/2011
great service would use again
02/05/2011
My family and I would like to thank the Office Staff for their professional, courteous, friendly and extremely helpfulness which made our holiday a positive outcome for us all.
30/04/2011
really happy with everything great service great holiday!
30/04/2011
Fantastic holiday was had and the crib made it all the more easy and enjoyable. NZ is a most stunning country!!!!
28/04/2011
We booked over the internet and found everything to our liking on pickup. This was our first time in a motorhome and it was just great. Not having to unload every night at a new destination was delightful. We even braved it and camped out a couple of times and wished we had done it more often.
26/04/2011
Jucy rentals worked well and we had no problems with pick up/return process.
23/04/2011
Office and staff very good
18/04/2011
The booking was straight forward as was picking up and dropping off. We had a terrific two weeks travelling around and thoroughly enjoyed our holiday with its ever changing scenery.
04/04/2011
Very easy website to use and book through. Heaps of vehicle information and specifications so you know what you are getting.
02/04/2011
Great travel experience. Would recommend it to everyone to give it a try. We loved it so much we now have one of our own.
27/03/2011
overall we had a fantastic time. thanks
07/03/2011
Had great time. Vehicle clean, gd supplies (clothes line, matches etc). Too our surprise comfy beds! Will recommend & hire again.
27/02/2011
Vehicle itself was brilliant! Economical,fast and maneuverable.
21/02/2011
Would definitely use your company again. The whole process was very easy from booking to pick up to drop off.
21/02/2011
I enjoyed the Service of KEA. Very friendly, they really took care, close to perfection. All that helped to made our vacation unforgettable.
10/02/2011
when we arrived upgraded to a 6 berth, totally wonderful first time experience, apollo staff very helpful and informative highly recommend, well done discovery and apollo motorhomes
31/01/2011
Great way of going on holiday with small kids
24/01/2011
There was a mix up initially with our pick up time - we had 10 am pick up on our booking sheet while the service had 11 am. However they were very accommodating and gave us the use of a rental vehicle to go and pick up some groceries while we were waiting to our vehicle to be organised. The DVD was simple and informative - I found it very helpful. The vehicle was clean. We had a great time and would recomemnd the service.
22/01/2011
The staff took excellent care of us. They were friendly and made sure we understood everything before we took off. We were very impressed with the whole operation. Thanks for doing a really awesome job.
04/12/2010
We got a very nice transfer of the camper in Christchurch And there was a quick and effective deposit in Auckland
13/11/2010
I would recommend discovery to anyone wanting this kind of holiday and we will definitely be using you on our next trip
11/11/2010
though we had problems with our batteries and were silly enough to run out of fuel on the side of the road at one time, we were impressed with the fact that staff returned our calls and made valid attempts to resolve our problems expediently. we will use Discovery homes again
04/11/2010
this is the first time holidaying in a campervan, staff were more than helpful with their professional, courteous approach and I will always highly recommend Discovery, thank you for everything
31/10/2010
Over all we had a fantastic holiday in the vehilce and the four of us would diffently do it again. The female on the serve phone i called the first time was not sympathetic to our problem. The next day i called the female was very helpful. The staff at the depot very helpful and friendly.
18/10/2010
This was our first holiday with a motor home and we will definatly do it again thanks to KEA.
16/10/2010
We had an amazing trip for 2 weeks in your campervan, we found almost everything we needed in the van and coped extremely well freecamping for most of this period without having to power up. We travelled almost 3000kms and the van was extremely comfortable and travels amazing well for such a large vehicle. We would and have recommended this holiday experience to others!
16/10/2010
We had a good break, enjoyed the experience to move around in "your own home". We would do it again.
09/10/2010
Yes we would go with them anytime. Excellent Camper. Every thing provided. First time we have been on holiday with a campervan. Thank you.
09/10/2010
Staff at both pick up and drop off very friendly and efficient. Thought the D.V.D presentation was great.Answered any questions we might have had once we started our trip.
09/10/2010
We loved the satelite tourist information system. It was very helpful. We even nicknamed her "Judy" and missed her when we were based somewhere for a few days. We had a wonderful holiday. 100% happy.
02/10/2010
Looking forward to experiencing a Kea motorhome again, probably in Aust.
02/10/2010
Loved our NZ experience!
19/09/2010
A very positive and enjoyable experience. Loved the fact that there was plenty of room to store clothing and you had everything you needed on board so just had to buy food.
29/08/2010
I was particularly imrpessed with the easy of both booking and return procedures.
28/08/2010
Had a great trip down to Milford Sound. A must see!!
25/07/2010
We could not speak more highly of the service we received from Leah and staff. The support and service we received both departing and returning our vehicle was excellent.
23/07/2010
We loved our campervan holiday and will certainly be planning another trip. Have already recommended it to other families as a great way to spend quality time together and get to know NZ.
22/07/2010
But your staffs are very helpful and helping us out from the problems. We did bought a small heater to used in the vehicle.Your staff advice that we could refund it on return of vehicle but, we did not.We sure will recommend to our friends.
20/07/2010
We are looking forward to our next oppotunity to do it all again
12/06/2010
The staff at Christchurch and Auckland were a1. Especially the young lady at Christchurch who was very accomodating to the last. I would definately recommend your company to friends and family and would and will use you in the future when we come back to Newzeland.
23/05/2010
Easy booking process, pick-up, and return, excellent DVD video about how to operate the campervan. Surcharges for credit card payment annoying, but within acceptable limits.
23/05/2010 the service was excellent when booking in and returning the vehicle. thanks for a great holiday.
judith
15/05/2010
I think we bit off a bit to long for our first camper van holiday. Two weeks on the south would have beeen plenty.
03/05/2010
We had a fabulous holiday and look forward to our next.the only problem was picking up the van tookat least hour and half staff seemed overworked.easy to drop off and thanks for upgrade to britz
01/05/2010
will probably go again next year
28/04/2010
check-in process was slow, due to mismatch between actual costs versus costs quoted at time of booking. However, staff were helpful and thorough. I would definintely recommend to friends.
17/04/2010 5out of 5!!!!!!!!!!!!!We had an awesome 13 days in the North Island of NZ.We travelled 2000ks and the motorhome didnt miss a beat.
Very comfortable seats but mattress not so great.Booking process was easy and taxi arrived promptly to take us from airport to Apollo.
We cant wait to do it again next year...but so many countries to choose.
16/04/2010 Hi my family rented a maui spirt 6 for six days from christchurch and traveled done to queenstown and back up the east coast to christchurch
we rate the campervan at 5 being our first time in a campervan we found it a blast and are planning to do it again.
We are seasoned overseas travelers and found this holiday one of the least stressful of them all.
01/03/2010 Dispite the problems above we did have fun and the major diappointment was the mainlands inability to provide some decent weather.
Yes i would consider using your firm again
21/02/2010 Fantastic holidays, will do it again for sure.

Vince
18/02/2010
Beatifull country to visit with a campervan
02/02/2010 we had a wonderful time nz is certainly very beautiful place to visit. we will be coming back you made it so easy and being close to the airport was fantastic.

thank you to the very friendly and professional staff.
25/01/2010 Will definately do another campervan holiday - was just the best way to see South Island.

Thanks for the great service - your staff at both collection and drop-off were very helpful and friendly - just made the trip more enjoyable.

20/01/2010
We enjoyed our campervan holiday the van was clean and tidy when we picked it up we were given everything we need and the customer service from the staff in n.z. was very good we have told our friends about discoverys van and we would use them again in the future.
18/01/2010
The whole experience was good, when we picked up the van it was professional and quick. When we dropped it off the same as well. Was one of the easiest holidays we have had, we would do it again. Cheers Kate
17/01/2010
New and very clean. Everything was exactly as advertised if not better. The van went well and was cheap on fuel.
17/01/2010
Everything in the camper workee perfectly. It could have used a thicker blanket/quilt as the South Island was cold and we did not use the heater much. We would definately hire a camper agin from Apollo.
16/01/2010
The staff at the pick up point at Christchurch airport were delightful helpful and the service was efficient. The camp grounds of TOP TEN were really good - jam packed at this time of year but clean with plenty of room in the kitchen, bathrooms for the many tourists at the site. We were confident about going to each TOP TEN along our journey. Each had a style of its own and the facilities were clean and excellent in prime positions not far from the cities - either snuggled into a hill with a garden like a botanic gardent (Dunedin) or with a fantastic view (Queenstown). Thank you for the opportunity to provide this report. I was so glad that I could organise this hire on line as well.
25/11/2009
another great experience in one of ur vans
17/11/2009
it was fine for what we needed, would maybe get a bigger one next time we come to NZ.
04/10/2009
The only way to do NZ!
22/09/2009 The only problem we encountered was that the Grey water outlet wasnt where we expected it to be in accordance with the instruction booklet (dvd only showed the tourist tracks/areas),

I rung the main office up and the person that we spoke to (name cant remember) told us it was below and behind the drivers door, fine that worked but our toilet and dishes sinks were still overflowing, we bought chemicals to flush to no avail, then on returning to base our very friendly and welcoming Staff member Geoff showed us where the other outlet was, far too late though.

Apart from that our holiday in this form of accomodation/transport was the best, fantastic and I have passed this on to many of my family, friends and staff in Rotorua and of Te Puia.
My family are looking at planning another escapade similar to this one we just took next year but hopefully for a longer period of time 3 - 4 weeks. Thanks for the experience and memories.

H.T. Wharerau

21/09/2009 Our experience was a good one!
Booking was fast, receiving vehicle was prompt. It was clean & comfortable. Thank you.


21/09/2009 Hi guys, yeah we had a great time.

The only constructive criticism we might have is the process of physically picking up the rental. It was a lengthy wait at the depot even as it was a quiet period of the day and not many customers were there at the time..


20/09/2009 Hi there,

Thanks for the opportunity to provide feedback.
Making our initial reservation online was done with such ease. Your website was very self explanatory and user friendly.

Upon arrival at Christchurch airport we took advantage of your courtesy pickup. As there were other people also hiring motorhomes from your company, and only a sedan car doing pickups, we were required to wait a little while. A shuttle bus in such sitautions may be a little better, but in saying that the young gentleman that picked us up (your maintenance man I think) was more than courteous, even if it was eveident he was rushing and trying to please several people.

Upon arrival at your establishment we were greeted in a friendly manner and tended to quite quickly. As more people arrived to collect their motorhomes we sensed that our introduction to things was speeded up and we were given a very quick overview. I think it was also assumed that because we are in the industry ( we run 8 caravan parks in australia) that our knowledge of motorhomes was already a given, but must say it is always nice to be on the recieving end of customer service for a change.

We were pleasantly surprised on the day of a free upgrade from a 4 berth to a 6 berth, and were most appreciative. It has confirmed in our mind that we would hire a 6 berth in future and certainly recommend it to others. The joy of not having to sleep in the overhead drivers compartment or convert the table each day to a bed, made for pleasant travelling each day.

One feature we enjoyed tremendously was the tourist info that cut into the radio station at every town. This device was immeasurable in persuading us to stop at various sites.

One slight disappointment was the fact that we could not get the TV to tune at any town we stayed in over the entire week. Whilst we did not allow this to detract from our holiday, the TV was a feature we based our motorhome decision on. We read and re-read the TV instructions in the manual a dozen times - to no avail.

All in all we had a wonderful time in the south island of New Zealand. The scenery was spectacular, the people friendly, the country side so clean. The trip was most affordable and highly recommended as a must do for others.

Thank you once again for the opportunity to comment and we would not hesitate to recommend you to others.

Mark & Robyn Lindsay


30/08/2009 When we arrived at the depot in Aukland we were left waiting for 50mins before we were informed our van would not be ready for at least another 2hours as it was being cleaned.
I found this completely unacceptable after having the week before and the day before to confirm pick up details.

On a positive note the depot did give us a free hire car to allow us to get into Aukland city centre for the day and also provided us with a bottle of wine for our troubles when we returned to pick up the van.

The van itself was easy to drive and use, no problems at all as far as getting around.
We found a couple of minor problems during the first couple of days - there was no rail for the ladder to the above cabin bed to clip onto which meant using the ladder was unsafe, and also the leg fell off the main table on the first day - we found on inspection this had been repaired on many occasions.

Other than that we had a great time, the drop off process in Wellington was straight forward so a nice way to end the trip.

09/08/2009 The pick up of the campervan took too long. There was lot of waiting around.

I can understand the need to go through all the details of how things work, but we seemed to spend ages just waiting around not knowing why we were waiting and we really wanted to get going on our holiday.

The campervan was great, and reasonably priced and fully equiped. Had a great time. Highly recomend for holidays with kids

08/08/2009 We thoroughly enjoyed our campervan. We travelled the south island for 21 days.

The only downside to the campervan is when you provide basic utensils and things for the kitchen there was no microwave containers. A plastic lunch box was provided which was useless.
Basic requiremet should include proper containers if you are going to provide a microwave. These I had to purchase myself. Also there should be wine glass provided, these would be of little cost to you.

On the whole I would recommend this form of travel.

We do hope to return next year and do the north island the same way.

Kind regards

Michelle Wills

27/05/2009 No complaints. It was a great experience and everyone we dealt with at Kea was very helpful. Everything went very smoothly.

Thankyou
18/05/2009 The booking process at Discovery was very simple and convenient. The response from the staff was very timely. The entire process of getting the caravan and returning was also smooth.
The customer service staff at KEA was one of the best experience I had in New Zealand, very helpful and courteous!

Hong
17/05/2009
It was great thank you. We would consider doing this again.
03/03/2009 Hello there, Our campervan holiday in Jan 09 was absolutely fantastic. Booking online was quick and easy with no problems at all. When we picked up the van the staff (and Tania) was very helpful and friendly!

The van itself was great, there was only one minor problem we had with the cd player not working all that well but other than that we had no other problems. The actual running of the van was also great, we hired from another company a few years ago and we had quite a few different mechanical problems with that van, but this one drove like a dream and had no mechanical problems at all.

Overall we were extremely happy with our experience this time around and would highly recommend your service to family and friends!!!

Thank you and we will definitely book again next year in April when we come back!!!

Richard and Dallas from Vic. Australia
28/02/2009 Hello Discovery Motorhomes New Zealand.

We had a perfect trip van Auckland to Wellington. We have seen wonderfull things, met great people and stayed in great campingplaces. Yes it was a big succes and we hope to come back to do it again. The car was great too, everything we needed was included, we had no problems what so ever.

Thank you very much!

All the best, MS and EB.
28/02/2009 Everythings was absoluty perfect, it is a fantastic expirience and the motorhome it is very well. Thank you very much.

Mariano.
22/10/2008 Excellent service throughout.

Apart from a minor problem with interior lights, our campervan trip was terrific.

Plenty of room, reliable vehicle and top service from start to finish.
22/10/2008
This was the first time hiring a campervan. Everything was first class. We were able to pick up the van , which was almost brand new, with a minimum of fuss and the return proceedure was painless. The van was well presented and drove well and was very economical to drive.
22/10/2008 I am completely satisfied with the service provided by Discovery Campervans Australia. Smooth booking, transaction and a top of the range good quality campervan. I would highly recommend them and would use this service again.

John
22/10/2008 Everything was perfect.......my family and I had a great holiday

The unit we had had a small leak but other than that it was perfect

Service was good but slow on the pick up day as 55 units were beiung collected

I will do it again next year but would like a 6 berth unit...............can I now in fact book it now for the Moto GP.....please!!

I would (and have) recommend you to anybody


22/10/2008 Wonderful Service, it really was, which is rare these days. Only point of critisism was that awnings were too small

Everyone from booking to handing vehicles back were helpful, friendly and professional. We will do it again

Ken Webb