Britz Frontier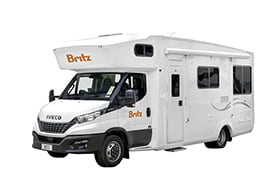 Vehicle Class: Economy
Current Floorplans


Image Gallery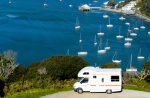 Vehicle Details
Vehicle
Vehicle Age
1-5 Years
Air Conditioning
Yes (in Drivers Cabin)
Awning
Yes
Seating
Maximum Passengers
6
Seatbelts
2 in Drivers Cabin, 4 in Main Cabin
Child Restraints
1718 Travel Season (April 2017 to 31 March 2018)
Internal Access
Yes
Living Area
Crockery Cutlery Pots Pans Supplied
Yes
Fire Extinguisher
Yes
Fridge & Freezer
Yes
Fly Screens
Yes
Floor Safe
Yes
Gas Cooker
4 burner
Gas Bottles
1 x 9kg
Hot & Cold Water Supply
Yes
Linen Supplied
Yes
Microwave
Yes (requires 240v)
Heater
Yes (requires 240v)
Sink
Yes
Sleeping Configuration
1 x Double Bed (2.10m x 1.25m)
1 x Double Bed (1.92m x 1.30m)
1 x Double Bed (2.10m x 1.25m)
Shower and Toilet
Yes
Entertainment
Audio System
Radio and CD player
LCD Screen & DVD
Yes
Vehicle Specifications
Dual Battery
Yes
Engine Specifications
2.5 Litre Turbo Diesel
Fuel
Diesel, 75 Litre Fuel Capacity
Fuel Consumption
Approximately 12 litres per 100 km
Make of Vehicle
Fiat or Mercedes
Power Equipment
Power Steering
Power Supply
12v & 240v
Transmission
Automatic
Water Tank Capacity
95 Litres
Waste Water Tank Capacity
90 Litres
Vehicle Dimensions
Length
6.60m
Width
2.25m
Height
2.95m
Interior
2.00m
Disclaimer:
Actual vehicles may vary according to year of manufacture & availablility, but vehicle will be suitable for required number of people and have similar specifications to those on this website. Specific specifications cannot be requested. Measurements are approximate, not guaranteed and specifications may change at any time without any prior notice.
21 Reviews for Britz Frontier
John mclean
04 September 2017
Decent power. Fairly smooth motor. Brakes good.navigation great
Benn fanderlinden
02 September 2017
Almost new and very clean motorhome highly maintained
Bruce Ridley
19 August 2017
Fantastic vehicle
Kathleen Turner
29 July 2017
Wow this was so comfortable. It had everything we needed in it and we were really impressed. It was spacious if you want comfort book the britz frontier !!
Jason Van Rysbergen
05 June 2017
Very economical on fuel, easy to drive. Plenty of seating and sleeping options.
Abu Noh Noor Hayati
24 April 2017
All was good when we get the Motorhome. Apart from parking spaces in the city, our trip was smooth and the vehicle was easy to drive. Love the functionality and all the small but useful compartments.
Sally and Neil Smith
15 April 2017
Few dings here and there but got along nicely on the road. Fit 4 adults in a 6 berth, room enough. Equipped with everything you needed. Just allow a lot of time to pick the camper up. Took an hour and a half. Need to sharpen up the process. Dropping off 10 minutes if that.
the frontier was so easy to drive ! great ride !
Brenda Tata
13 February 2017
Great vehicle on the winding roads. Husband said comfortable driving. 1. Great layout then last camper we had (2014), back seats both looking forward. 2. Sleeping layout easier to convert to bed and longer, was great. 3. Step buckled, which we advised when returned. 4. Linen passable, but the doona could do with a close off at the bottom, buttons or zipper. 5. Our booking was for 4 Berth, had 6 Berth with no extra to pay, a bonus for us. 6. Very comfortable.
Leanne Forbes
27 January 2017
We had no troubles with the van at all. Very comfortable, everything we needed. Perfect.
Abu Bakar Ismail
08 September 2016
Waste indicator not working.
CHI WEN CHOU
06 August 2016
good
Julia Golding
27 June 2016
Absolutely awesome!!! We appointed and was very easy to drive!!
Nadine Eketone
04 June 2016
Awesome, relaxing and totally enjoyable experience using the campervan that we were given. We will be back!!
Nadine Eketone
04 June 2016
Awesome, relaxing and totally enjoyable experience using the campervan that we were given. We will be back!!
Vehicle drives very well, I was pleasantly surprised on that front. Interior is well thought-out, with the sole exception of storage for the small front table when driving (there are no good places that do not cause it to slide around) and the overhead storage of the kettle and toaster (unlike everything else, they do not have snug fittings and rattle around a lot, and are able to roll themselves out of their cupboards). Everything else was great, the beds were comfortable, and I was overall impressed with the vehicle.
Lennart Andersson
01 January 2016
Good spaces for 3 persons
Peter Barrenger
26 December 2015
Great vehicle everything we needed for a family of four! Bedding linen was really good.
Dawn Campbell
26 December 2015
Fantastic. Catered to all our needs
Michelle Coomber
06 October 2015
The vehicle ran well on fuel, was reliable and comfortable. The only suggestion would be to reduce the amount of noise that the microwave makes due to the rattling while on the move. Was great that it was diesel given the price of fuel. The phone chargers were a bonus and a decent size fridge. If a small broom was added in that would be good.
Ben Peirce
03 October 2015
There were a couple of minor issues with the vehicle. The fridge kept opening while driving, a few if the boards under the bed were cracked and the step was broken.