Mighty Deuce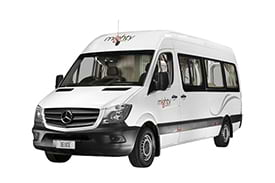 Vehicle Class: Budget
Current Floorplans


Image Gallery









Vehicle Details
Vehicle
Vehicle Age
Up to 7 years
Air Conditioning
Yes (in Drivers Cabin)
Seating
Maximum Passengers
2
Seatbelts
2 in Drivers Cabin
Child Restraints
1718 Travel Season (April 2017 to 31 March 2018)
Internal Access
Yes
Living Area
Crockery Cutlery Pots Pans Supplied
Yes
Fire Extinguisher
Yes
Fridge & Freezer
Yes
Fly Screens
Yes
Gas Cooker
2 Burner Stove
Gas Bottles
1 x 9kg
Hot & Cold Water Supply
Yes
Linen Supplied
Yes
Microwave
Yes (requires 240v)
Heating
Yes (requires 240v)
Sink
Yes
Sleeping Configuration
1 x Double Bed (1.87m x 1.78m) OR
2 x Single Beds (1.87m x 0.70m)
Shower and Toilet
Yes
Entertainment
Audio System
Radio / CD
TV - DVD
No
Vehicle Specifications
Dual Battery
Yes
Engine Specifications
2.2 Litre, Turbo Diesel
Fuel
Diesel, 75 Litre Fuel Capacity
Fuel Consumption
Approximately 12 litres per 100 km
Heater
Yes (requires 240v)
Make of Vehicle

VW

Power Equipment
Power Steering
Power Supply
12v & 240v
Transmission
Manual/Automatic - Cannot be requested
Water Tank Capacity
70 litres
Waste Water Tank Capacity
80 litres
Vehicle Dimensions
Length
5.5m - 7.2m
Width
2.00m
Height
2.60m - 2.75m
Interior
1.90m - 1.92m
Disclaimer:
Actual vehicles may vary according to year of manufacture & availablility, but vehicle will be suitable for required number of people and have similar specifications to those on this website. Specific specifications cannot be requested. Measurements are approximate, not guaranteed and specifications may change at any time without any prior notice.
29 Reviews for Mighty Deuce
A nice unit to drive, covered some windy roads in Northland and it handled the corners and hills well. All the facilities were clean and in good order.
Samantha Maloney
22 May 2017
vehicle drove really well, was quite surprised
Alex Greasley
29 April 2017
Great time away
Sally Joustra
25 February 2017
mechanically great, some minor cabinetry issues, would have been great to have a TV instead of just a DVD screen.
Anita Bout
19 February 2017
Great for 2 people
Briony McLaughlin
03 December 2016
Fantastic vehicle, very roomy.
Jason Davis
19 November 2016
Great vehicle to drive, clean and tidy
Mandy Macintosh
15 October 2016
The campervan is very clean and tidy and well appointed
Christine Kenah
08 October 2016
It was very easy to drive and park. It suited my husband and I perfectly! Having the Tom Tom included in the price was great as they are usually charged as an extra.
Alan Dick
04 September 2016
once all switches located etc, everything was fine, enjoyed the vehicle and the driving was car like. Campervan holiday was a first for us, in general it worked well but the floor space for moving around was smaller than we expected and took a little getting used to.
Lissie Boulton
30 April 2016
Very well equipped.
Bernaidne Paterson
14 April 2016
Vehicle was great, and perfect for me requirements.
Easy to drive, fuel efficient, modern interior.
Doug Schulz
09 April 2016
The Mighty Deuce handled very well on steep winding roads, had good fuel economy, comfortable to ride in, and was very well equipped with all necessary essentials for a very relaxed holiday. Staff were very helpful and informative, especially Katie & Leu at Christchurch Branch.
Stephen Loveday
12 March 2016
perfect for what we needed
Marilyn Botheras
22 February 2016
Would have like a step to help get into van or rail - found it difficult.
Sue Mennell
10 February 2016
The vehicle was perfect for our needs. Everything worked perfetly. We used the "outside" gas burners all the time for all our cooking. The only thing that would have been useful was a side awning for sunny campsites as well as when it was raining ligtly. We could have still sat outside if we had had this.
Rick Sullivan
06 February 2016
We really enjoyed driving the Mercedes, everything was what we wanted, it was just a bit tired looking and showed its age.
katrina saunders
06 February 2016
Very neat and tidy, loved it.
Ron Meyles
24 January 2016
Fine
Klaus Barysch
04 January 2016
The car was very comfortable to drive and to live in. The equipment like grocery, cutlery and alsothe camping table and chairs looked quite new and were simple to handle. service at booking and also in the offices in Christchurch and Auckland was very friendly and helpfull.
christopher drake
28 December 2015
Beautifully cleaned, spacious & very economical on fuel. Loved our vehicle.
Terry Burns
05 December 2015
Great experience with the Motorhome, was a great trouble free holiday, would do it again. The only suggestion, the water hose supplied was approx 2 meters long, far to short for any fill at any of the locations we stayed.
Matthew Strugnell
28 November 2015
Drives very well
Nicole Phillips
14 November 2015
This vehicle had everything we needed (and more) we were really happy with it and it definitely exceeded my expectations. And it was easy and comfortable to drive. The only minor flaw was the waste water pipe was located in the center of the chassis which meant ground clearance was tricky for steep driveways and speed bumps. Luckily they warn you of this when you pick the vehicle up - but it does seem like a bit of a design flaw and did make me nervous on a couple of driveways.
Marie Marshaall
10 November 2015
Loved this form of transport, stop when we wanted, slept where we wanted (within reason!)
Michael Hampton
24 October 2015
The camper van was perfect for traveling throughout New Zealand.
Miles Wilson
17 October 2015
Easy to drive ,comfy to ride , all the things you need inside 👍
Melissa Peirce
03 October 2015
There were a couple of minor issues with the van. One of the cupboards kept opening while driving, the tv sound would stop half way through a movie. It was easy to drive. The beef was a good size.