The Difference between Motorhome Companies
We understand how tricky it can be to choose the perfect motorhome that will suit you and your needs. To make the decision process easier for you we have given the facts relating to each Motorhome Company and what you can expect.
---
Maui Motorhomes
Vehicle Age - Under 2.5 years
With a large and dependable rental fleet Maui are firmly positioned in the top end of the market. Their high standard vehicles are expertly maintained, well laid out living areas, comfortable sleeping arrangements and all come equipped with automatic transmission. The Elite vehicles are the most luxuriously equipped, Maui motorhomes are self contained which gives you the option to free camp.
Maui will reimburse your taxi fare from the airport to your pick up branch, and they do not charge for additional drivers or for linen.
- Maui Elite range guaranteed under 1 year
- Other Maui vehicles guaranteed under 2.5 years
---
Britz Campervans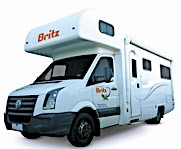 Vehicle Age - Between 0 to 5 Years
Britz campervans were initially Maui Campervans and offer the perfect balance between price and comfort. They are expertly maintained, comfortable and offer great value for your money. The availability of Britz Campervans is excellent due to their large fleet, while their affordable pricing makes them a great choice for the budget conscious traveller who still values comfort.The larger vehicles offer self contained facilities which gives you the option of free camping.
---
Lucky Rentals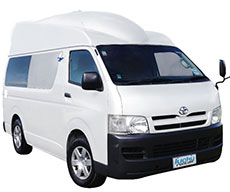 Lucky Rentals provides low priced campervan and motorhome rentals. Spend your money on your New Zealand Adventures, not expensive campervans. Lucky campers are perfectly suited to younger travellers, as any licensed driver can hire one. They specialise in providing a range of vehicles and offer self contained options.
Late model campervans (2001 - 2007) - Everyday low prices
---
Travellers Autobarn
Vehicle Age - 3 to 8 years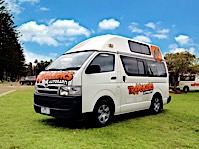 Travellers Autobarn understand that many travellers are on a budget. As ex-backpackers themselves they are entirely focused on meeting the special needs of those seeking a value-for-money self drive holiday. They specialise in providing vehicles for those wishing to enjoy their adventure at a reasonable cost.
There are two models on offer - The Kuga & Hi-Top Campers. They come with numerous extras and are certified self contained (at extra cost).
Get a Travellers Autobarn Quote
---
Mighty Campervans
Vehicle Age - Up to 7 years old.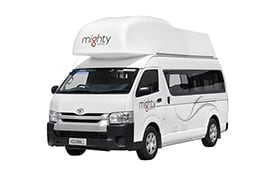 Going Mighty on Adventure! More awesome than the average cheap motorhome hire. Mighty campers are best suited for budget conscious travellers. While they do not have all the bells and whistles they are affordable, reliable and perfect for discovering New Zealand. All Mighty vehicles are expertly maintained and include 24 hour vehicle assistance.
The smaller 2 berths are very popular and are a great way to enjoy a cost cutting holiday. With their huge fleet size, availability is very rarely a problem, and they have depots in all the main centers (Auckland, Christchurch, & Queenstown).
In addition, Mighty now offer self contained options
---
Escape Campers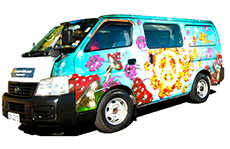 Vehicle Age - Between 4 to 9 Years
Escape Campervans are a 100% Kiwi company and are Qualmark certified (New Zealandís independent quality assurance agency). Escape are a company who offer a high level of service, commitment to low prices and uncomplicated rental terms.
Escape operate only Toyota Hiace and Nissan Caravan campervans. These are rugged and dependable - Ideal for New Zealand driving conditions. Requests can be made for specific designs, however no guarantees can be made.
In addition, Escape now offer self contained options
---
Jucy Campers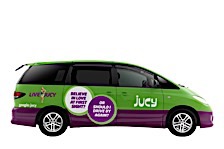 Vehicle Age - Casa & Casa Plus (2 years old)
- All Alternate models refurbished from 2010+ onwards
Jucy is a dynamic and friendly hire company which aims to provide 'the best deals on wheels' from Auckland to Queenstown. Jucy campers are custom built and perfectly suited to younger travellers, as any fully licenced driver over 18 can hire one.
These vibrant vehicles are brand new models, and your Jucy rental rate includes unlimited kilometres, tax and 24hr roadside assistance.
---