The Kaiarahi
Kaiarahi is a Maori word meaning 'leadership' or 'to lead' and its metaphorical meaning is 'guardian' or 'to guide.'
In this way, the name characterises the dolphin, Pelorus Jack, who graces the Interislander logo. For 20 years, this inquisitive dolphin "guided" ships through the waters of Cook Strait and the Marlborough Sounds.
Kaiarahi can carry up to 550 passengers and has been sailing across the Cook Strait since since its refurbishment in 2015. The onboard facilities are impressive making your journey across the Cook Strait a memorable part of your holiday.
Travel time is 3 hours.
---
Facilities include
Comfortable Lounges
Kaiarahi offers two sizeable passenger lounges – both offering comfort and panoramic scenery. Bar, Shop and Ocean View Eatery
Whatever you are after, Kaiarahi is sure to please the hungriest and thirstiest of travellers. Sample from the broad selection of food and beverages at the eatery, grab a coffee or unwind with the alcoholic beverage of your choice.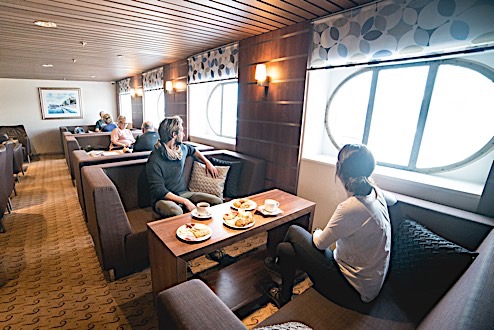 Children's Play Area and Nurseries
If you want some space to let your baby roam the floor, or where your little one can have some creative fun, or simply enjoy some time-out and relax with some kids' TV, then will find a smart and clean children's area in the Lookout Lounge on Deck 8.
Kaiarahi Plus Lounge
If you fancy a more refined journey across the Strait, then book a seat in the Plus Lounge. Not only do you get comfortable, quiet environment, but you also get free food and drink - including wines and beers. Tea, coffee, magazines and workstations are provided.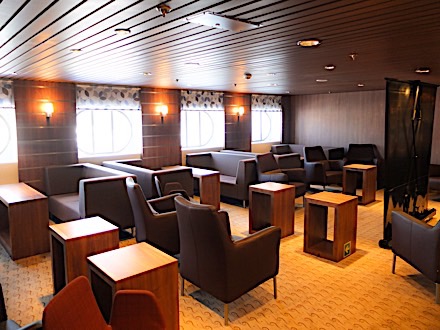 Lookout Lounge
The Lookout Lounge is located upstairs at the front of Deck 8. As the name suggests, it gets some pretty spectacular views looking out across the sea. To make it extra special, we've added some comfy recliners. So sit back and enjoy!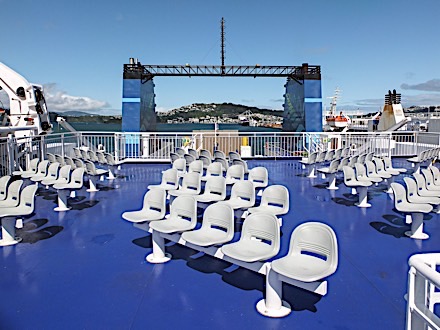 Shop & Information
Whether you need a nice warm jacket, a cool new t-shirt, an authentic pounamu or some entertainment for the kids, you will find it all in our mini emporium on Deck 7. We also have a range of Interislander souvenirs and memorabilia.