Escape Rentals NZ
About Escape
Escape Campervans are a 100% Kiwi who were established in 2003 with just 10 vehicles and now operate around 200 campers! Escape are Qualmark certified (New Zealand's independent quality assurance agency) Escape are a company who offer a high level of service, commitment to low prices and uncomplicated rental terms.
Stand out Features
Almost 200 individually 'flavoured designs' created by a team of award winning artists.
Escape use the services of 4 dedicated graffiti artists to paint our vehicles, including the winner of the "2008 World Graffiti Championship" (Yes, there really is such a championship!)
Escape operate only Toyota Hiace and Nissan Caravan campervans. These are rugged and dependable - Ideal for New Zealand driving conditions.
Vehicle Age
4 to 9 Years with an Interior fit-out of around 3 years or less
Escape 2 to 3 Berth Self Contained Campervan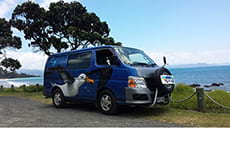 see extra info