Auckland - The City Of Sails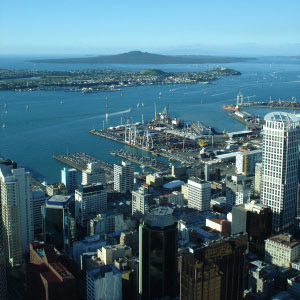 Auckland is New Zealand's largest city and is situated on the country's North Island. The waterside location of the city allows for breathtaking scenery and beautiful beaches all year round. The region is surrounded by rainforest laden hills, invigorating walks and idyllic holiday islands. The skyline is dominated by dozens of dormant volcanic cones that can be viewed from many of New Zealand's natural and man-made landscapes.
Auckland has several depots for
campervan hire New Zealand
, which will make your campervan experience and easy and some one. Making Auckland the destination of your next campervan adventure means that you can experience the wonder and beauty of this magnificent region at your own leisure and pace. Driving in this area will allow you to discover the rainforest cloaked hills and the Waitakere and Hunua Ranges that enclose the heart of the city. Having your own accommodation on wheels means that you can pick and choose where you want to stay, depending on wherever the road takes you.
Auckland enjoys a warm coastal climate without extremes of temperature. It is known as one of the sunniest spots in the country and this is taken advantage of as the tourists flock to the incredible beaches nearly all year round. The Auckland region is also commonly described as a collection of villages, as the area is divided into seven administrative centers. Each of these regions offers something unique and exciting to the new visitor, allowing Auckland to be a city of contrasts and differences.
The North of Auckland is home to rolling countryside and an abundance of arts, wineries and beaches. The region includes the settlements of Matakana, Puhoi, Warkworth, Omaha, Goat Island, Pakiri and Orewa. The rural landscapes and stunning beaches can easily be explored from your campervan, which means that you can discover the north of the spectacular region in style and comfort.
Central Auckland is nestled between Manukau and Waitemata Harbours and is home to the city centre. The streets of the city provide a bustling retail scene that is any shopaholic's dream. The lively nightlife scene comes to life after dark, with trendy bars and clubs providing for an excellent night out. The focal points of the city would have to be Viaduct Harbour and Pines Wharf, which are the hotspots for seaside dining and entertainment. The city heart demonstrates the cosmopolitan feel of this amazing city and allows you to experience city life at its best.
Hauraki Gulf and Islands are some of Auckland's most talked about highlights. Each island has its own distinctive and unique character, which is essentially what makes them so special. The island's can be accessed via ferries from Auckland, making visits to them, ideal day trips. Discovering the coastal highlights of the Auckland coast will allow you to take part in activities such as fishing, sailing, dolphin and whale watching, cruising, kayaking and windsurfing. These experiences will satisfy your adventurous spirit and will allow you to get back in touch with nature.
The Northern Bays of Auckland are home to long stretching, golden sand beaches and encourage a relaxed, laid back lifestyle. The Northern Bays are situated just a short drive over the Auckland Harbour Bridge, which can easily be accomplished in your hired campervan. Over the bridge you will find several peaceful communities that will welcome you with open arms and help you discover the wonder and beauty of these natural bays.
In the South of Auckland you will discover a lively blend of colours and lifestyles. The most southern region of this spectacular city brings forth an appealing blend of urban and rural spaces that is bound by 320 kilometres of rugged coastline. The strong cultures and prominence of beachside living gives South Auckland a powerful Pacific Island flavour that is unique to any other place in the world.
Taking a drive to the east of Auckland will bring you into an oasis of charming coastal and inland villages. The east is also home to a series of sandy beaches and regional parks that are intertwined in the charming country settlements. Other features of this area include boutique wineries and top golf courses, which can be explored by taking a short drive out of the inner city limits.
The black sand beaches of New Zealand are characteristic of the west of Auckland. The area is also the perfect place to explore stunning rainforests and vineyards that are hidden in the rolling green rural landscapes. The west of Auckland is also home to the Waitakere Ranges, which are home to beautiful natural streams, waterfalls and stunning west coast beaches. These pleasant contrasts between land and sea are truly spectacular and really must be seen to be believed.
When visiting Auckland on your campervan holiday you have the choice of several holiday parks and farmstays. Parking your campervan at a farm-stay will allow you to gain an understanding of the lifestyle of rural Auckland, while a caravan park will provide you with the necessary comforts and a place to recharge your batteries. Wherever you choose to stay, you can be assured that
campervans New Zealand
will keep you safe, dry and warm no matter what weather conditions you experience.
Auckland is an essential place to visit next time you are holidaying in New Zealand. The city alone offers a pleasant blend of culture and lifestyle that makes you holiday unique and rememberable.
Christine Barton