The Best Places To Bushwalk In New Zealand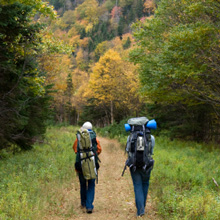 Bushwalking is a great way to experience nature in whatever country you are in. Bushwalking holidays are popular in both Australia and New Zealand, as both countries offer some remarkable tracks that are internationally well known.
New Zealand is home to some incredible scenery, which is best explored by trekking some of the many bush tracks that spot the countryside.
Some of the best of these include:
Lake Waikaremoana
Regarded by the Department of Conservation as a "Great Walk", the track surrounding Lake Waikaremoana is truly a sight (and track) to behold.
Spanning 46 kilometres, this enticing walk will take you around the entirety of the lake, past spectacular waterfalls and through majestic mountain scenery, all while offering you awe-inspiring views of this incredibly beautiful region.
Whirinaki
Discover the miracle of life and the tranquility of nature when you embark on a trek in the Whirinaki Forest. This ancient beech forest is home to crystal clear creeks, pounding waterfalls, unique bush tracks and a unique array of wildlife.
In a word: Stunning.
Arthur's Pass
Shadowed by the Southern Alps, Arthur's Pass is a glorious National Park, offering some exquisitely stunning landscapes.
Casey Track is a popular track for bush walkers seeking a wide variety of environments in one. From babbling brooks, to exposed mountain settings and dense forest, this walk offers something for any keen nature lover.
Nelson Lakes
The Nelson Lakes region offers several fantastic walking tracks that are all suitable for those seeking beauty, wonder and intrigue.
Trek through glacier-carved broad valleys, between stunning mountain ranges and discover the two picturesque lakes that this area is comprised of.
Christine Barton