Christchurch - The Garden City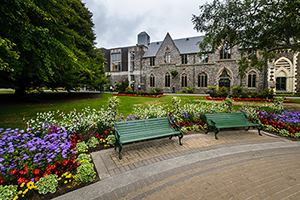 The coastal city of Christchurch is the largest city of the South Island and is part of the famous Canterbury region. Positioned at the centre of the east coast, just north of Banks Peninsula, Christchurch is known as the International Gateway to New Zealand's South Island. It is the perfect place for
campervan hire New Zealand
, as it can ideally be explored from the comfort of your own vehicle.
Situated east of the Canterbury Plains and with the shallow waters of the Avon River flowing through the city centre, Christchurch enjoys a temperate climate throughout the majority of the year. However, in winter it is common for temperatures to fall below 0 degrees Celcius at night, so it is advisable to pack warm clothes when visiting.
The city itself is internationally recognised as "The Garden City" as it is home to an abundance of well established parks and public gardens. This allows it to be a city of contrasts: a natural environment, renowned for its beauty. The city comes to life each year in February with the arrival of the Flora Festival. During this celebration of the beauty and wonder of nature, the region becomes a blaze of colour, with the vibrancy of the native flora shining through.
The city centre itself is a planned settlement that was founded by English colonialists. Therefore it is the resting place of some of the finest Neo-Gothic architecture in the country. At the centre of the city is Cathedral Square, a place with understated elegance that speaks of the days gone by. The area around Cathedral Square is considered the Central Business District of the city and is essentially where all the action occurs.
Apart from the cosmopolitan and architectural highlights that Christchurch has to offer, the natural attractions are also what draw in visitors to this amazing region. Christchurch is a pleasant starting point for the exploration of surrounding mountains, ocean beaches, rivers, lakes and wide open spaces, which are all located within an hour's drive from the city centre. These contrasts make Christchurch the perfect place for your next holiday as they allow you to experience and enjoy the best of both worlds.
Campervans New Zealand
truly does give you the freedom of choice on what you want to see, where you want to go and stay and what you want to do on your holiday. Having your own vehicle means that you can visit the surrounding areas within a few hours drive. Another advantage is that if you choose to stay in one of these areas, you already have your accommodation available to you and you do not have to go back for any of your belongings. This is particularly appropriate when visiting Christchurch as the surrounding areas are sure to draw you in, beckoning you to pay a visit.
Travelling inland will bring you to the settlements of Darfield, Oxford and Ashburton. You should take some time to discover the history of these quaint times, as they will also give you an idea of the prominence that Christchurch holds in the Canterbury region. A visit to Craigieburn Forest Park and Arthur's Pass National Park will allow you to get back in touch with nature and explore the many facets of New Zealand's native flora and fauna.
However, if you just want to stay within the city limits of Christchurch, there is more then enough to keep your mind distracted, your body active and your mind revitalised. Take some time to discovery the part and present of this majestic city with a visit to the Canterbury Museum. This beautifully architectured building depicts the stories of early Maori, European settlement and Antarctic exploration and will give you an idea of how Christchurch has developed over the years.
To get back in touch with nature and take some time out on one of the unique train journeys that will take you through the surrounding terrain. Discover some of the many heritage parks and gardens within the city centre or take a scenic drive of the city outskirts, exploring the rugged coastline, winding roads and mountainous terrain that are characteristic of the New Zealand landscape.
All of this exploration and adventure is sure to make you tired so it is a nice feeling to know that your bed is already waiting for you. All you have to do is find a place to stay and luckily for you, there is no shortage of accommodation options in Christchurch and surrounding areas. 'Family Parks' alone offers three caravan parks in the region (North South Holiday Park, Rakaia River Holiday Park and South Brighton Motor Camp). These parks really are one of your best options when it comes to places to stay in New Zealand, with clean, spacious, powered sites on offer throughout their parks and facilities that will make your stay just that little bit more comfortable. Having a pleasant place to stay in Christchurch will make your stay all that more enjoyable and allow you to enjoy your holiday to the fullest extent.
Christchurch is essentially one of the best tourist destinations of the South Island, if not the whole of New Zealand. With contrasts of adventure, activity, beauty and relaxation, there is guaranteed to be something suitable for all, making your holiday one full of excitement, joy and happiness.
Christine Barton