Christchurch - The Garden City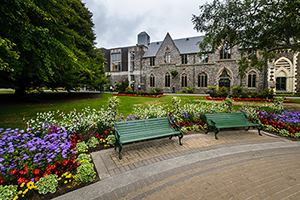 Christchurch is the largest city in New Zealand's South Island, situated on the East Coast and approximately 6 hours drive from Queenstown. Christchurch is a gateway to South Island exploration, with the Banks Peninsula close by, as well as the spectacular Southern Alps and renowned Canterbury Plains. It is the perfect place to begin a
New Zealand Motorhome rental
, and enjoy the sights and attractions from the comfort of your own vehicle.
Internationally recognised as the "Garden City", Christchurch is continually progressing, giving residents and tourists something new to discover. The city centre is occupied by both modern architecture and some of the oldest buildings in New Zealand. The Avon River intersects the city, combining a natural landscape with the metropolitan location. You will find many new restaurants and bars, street art and lively retail areas. Visit iconic city attractions before exploring its neighbouring natural playground.
The surrounding Canterbury region offers memorable excursions and charming towns, welcoming ski fields, relaxing retreats and adventure seeking prospects. Escape to Hanmer Springs for a soak in the thermal pools, or north to Kaikōura and meet the local wildlife. Stroll around the harbour in Akaroa on the coastal edge of the Banks Peninsula, home to the largest colony of Little penguins on mainland New Zealand.
Travelling in a Campervan or Motorhome
truly does give you the freedom of choice on what you want to see, where you want to go and stay and what you want to do on your holiday. Having your own vehicle means that you can visit the surrounding areas within a few hours drive. Another advantage is that if you choose to stay in one of these areas, you already have your accommodation available to you and you do not have to go back for any of your belongings. This is particularly appropriate when visiting Christchurch, as the surrounding areas are sure to draw you in, beckoning you to stay longer.
The city of Christchurch has a temperate, fairly dry climate with rain falling on fewer days than other major cities in New Zealand. The climate is quite comfortable year round, however, winter nights get cold with regular frosts. Winter mornings usually comprise a bright, sunny day with little or no wind. Warm winds are possible at any time of year, but most commonly over the summer months of December, January and February.
Average daily temperatures of Christchurch in January is 22.5°C (72.5°F) and 11.3°C (52.3°F) in July. Temperatures in summer are often toned-down by the cool ocean breeze.
Winter temperatures can fall below 0°C (32°F) at night and on average there are 70 days of frost each year. Snow falls can be expected once or twice a year in the hilly suburbs of Christchurch and once every other year on the flatter land below.
For your comfort in the cooler months - many of our Motorhomes include heating, some of them even run on diesel, perfect for nights when you are not plugged in to power at a campground.
Contact our friendly reservation team
for assistance in choosing the right vehicle for your New Zealand adventure.