The Architectural Beauty Of Dunedin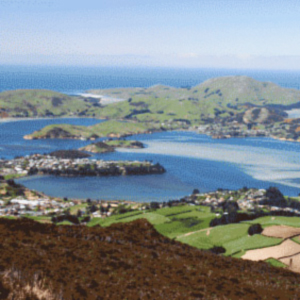 The city of Dunedin is a compact city located on the south-east coast of New Zealand's South Island. It is the second largest city on the island and is the principle city of the Otago region. The city itself stands on the hills and valleys surrounding the head of the Otago Harbour. These hills and valleys are the remnants of an extinct volcano and create a picturesque backdrop that can be enjoyed from nearly every angle within the city.
This captivating and enchanting city lies on relatively flat land, to the west of the head of Otago Harbour. The city is rich in heritage and culture and retains an elegant grandeur through its abundance of historically significant buildings. There is a strong Victorian and Edwardian feel to the architecture which adds to the uniqueness and pleasant atmosphere of Dunedin. Dunedin is home to one of New Zealand's most photographed buildings, the Dunedin railway Museum. This stunning building is home to the New Zealand Sports Hall of Fame and the Speights Brewery, making for an interesting and informative afternoon out.
Dunedin is also known as a major seat of learning, as it is home to the University of Otago. This is New Zealand's oldest university and contributes to the vibrancy of youth in the community. The strong presence of youth is also felt through the emphasis placed on arts and culture. This will become greatly apparent upon a visit to Otago Museum, which is one of New Zealand's finest museums. It is home to a magnificent collection of treasures from around the world and is renowned for its uniqueness and ability to captivate its visitors without fail. The Dunedin Art Gallery is also worth a look at as it is host to a wondrous display of classic and contemporary works. If you have the time, you should also check out the Otago Settlers Museum. A visit here will give you an insight into Otago's beginnings and allow you to gain an understanding on how the city has grown and progressed over the years.
The region's most popular highlight is undoubtedly Larnach Castle. As New Zealand's only castle, Larnach has a lot to live up to and it certainly doesn't fail to please. This beautiful castle was built in 1871 and is nestled on beautiful gardens that will simply take your breath away. The superbly architectured building is privately owned and cared for, open to the public year round. Inside the castle you will find a unique collection of New Zealand's antiques that depict a tragic and scandalous history. A trip to Larnach Castle will definitely be a high point of your visit to Dunedin and the wonder and beauty that surrounds it will stay with you forever.
Dunedin may also be noted for its focus on nature and the environment. It is often regarded as a city of gardens, with the most prominent of these being the Dunedin Botanic Gardens. These are New Zealand's oldest Botanic Gardens and are alive with colour and vibrancy. Take a stroll through the beautifully maintained gardens and discover some of New Zealand's most unique plant life. Dunedin is also home to some incredible wildlife that you won't be able to find anywhere else in the world. Animals that call this region home are the world's rarest penguins, a mainland albatross colony, fur seals and sea lions. While in Dunedin you will have the opportunity to interact with these incredible animals and learn about their habitual ways of life.
When it comes to places to stay in Dunedin on your
campervan New Zealand holiday
, you really are spoilt for choice. If you are a fan of the Top 10 Holiday Parks, than your best bet is to stay at Aaron Lodge, which is located just 2.5 kilometres from the city centre. They offer excellent campervan facilities and the sheltered surroundings will make your stay a relaxing and comfortable one. The Leigh Valley Touring Camp is another popular accommodation hotspot and it's no wonder because here you can enjoy the comfort and style of campervanning at its best. The park is nestled on the banks of the lovely Leigh Stream and provides close access to stunning walks and local attractions. With so many options, each offering something different and attractive, all you have to do is decide which is the most convenient for you!
Dunedin is a city of contrasts that is sure to offer something for all. Whether you want to enjoy a cosmopolitan city of stunning architecture or simply want to get back in touch with nature and discover some of the world's most unique wildlife, adding Dunedin to your New Zealand itinerary is a must!
Christine Barton