The Highlights Of Kaikoura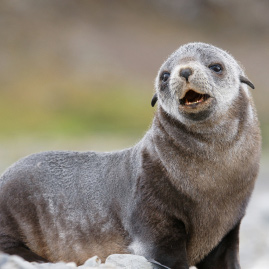 Nestled halfway between Christchurch and Picton on New Zealand's South Island, Kaikoura is a pleasant seaside settlement that is just begging to be explored. Surrounded by glorious mountains that remain snow capped throughout the majority of the year, Kaikoura is a town often forgotten about, but one that rarely disappoints.
The unique combination of a coastal setting and accompanying mountain skylines, make this a destination that is easy on the eye and perfect for photographers. The glorious landscapes capture everything this area is about and offer the perfect playground for trampers and adventurers.
If there is one thing Kaikoura is known for, it's the marine life that call it home. Dolphins, whales and seals frequent the waters around here and the opportunities to interact with them are seemingly endless. Whale and dolphin watching is an extremely popular past time here, and there are several touring companies that operate out of Kaikoura. Spend a morning or afternoon out on the sea and discover these creatures in their natural habitat.
The seals are another popular draw card of the area, with several fur seal colonies residing on the peninsula. Visitors can choose to go out on a boat and frolic with them or snorkel in the waters just off the coast. Either way, it is guaranteed to be the experience of a lifetime.
Kaikoura also offers plenty for those interested in art, history and culture. The town have a rich history, and remnants of its Maori and European past can still be seen today. Kaikoura Museum and Fyffe House are the perfect places to discover this, as they will give you a unique insight into the rich cultural past of this remarkable area.
For those interested in art and craft, the Art Trail is sure to delight. The trail begins at the visitor centre and is the perfect way to see local artists at work and discover their many talents.
Lovers of food and wine will also fall in love with this town. Its coastal position means it boasts an impressive array of fresh seafood delicacies including grouper, cod, mussels, paua and crayfish. You may choose to catch your own or enjoy them at one of the town's many cafes and restaurants.
The Kaikoura Winery is also popular with tourists and offers the perfect location for a relaxing day out. Sample the award winning wines and soak up the incredible surrounding scenery and crisp fresh air.
When it comes to places to stay in your motorhome you really won't be able to go past the Kaikoura Peketa Beach Holiday Park. This is Kaikoura's only beachfront holiday park and offers spacious sites at an affordable price. This park acts as the perfect base for all the eco-tourism activities on offer here, and is positioned just 5 minutes south of town.
Kaikoura is a must-see destination on any New Zealand holiday. The outdoor activities on offer here will simply blow you away and leave you wishing you could stay forever.
Christine Barton