New Zealand's Best Beaches
Bay of Plenty Beaches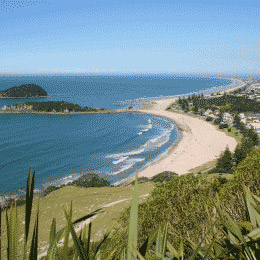 New Zealand is the newest country on earth and is home to some of the most incredible sights and scenery one could even imagine. Picturesque mountains, stunning lakes, glorious waterfalls and untouched rainforests dominate the landscapes here, making it a nature lover's paradise.
New Zealand's beaches are also among the country's most highly regarded natural attractions. Both the North and South Island boast remarkable beaches that simply must be seen to be believed.
Some of New Zealand's best beaches include:
Bay of Plenty
The beaches of the Bay of Plenty boast gorgeous white sand and are accompanied by a sunny climate that makes for pleasant weather all year round.
The highlight beach of the area would have to be Mt Mauganui, which is located in Tauranga and is dominated by the volcanic cone of Mauao. Perfect for surfing or late afternoon strolls, this beach encompasses everything the Bay of Plenty is all about.
Abel Tasman National Park
Abel Tasman National Park may be the smallest park in New Zealand, but it doesn't fail to offer an entire world of beauty and intrigue. This park is best known for its unforgettable coastline of gorgeous sandy beaches and pristine clear waters.
Tonga Bay is perhaps the most popular in the park and can easily be accessed from the Abel Tasman walk. This striking beach boasts pure white sand and dazzling turquoise waters and is ideal for kayaking and snorkeling.
Coromandel Peninsula
If rugged, untouched coastline is what you are after, you really can't go past the Coromandel Peninsula. This densely forested volcanic peninsula is famous for its beautiful beaches and magnificent volcanic peaks, all of which are located right on the edge of striking, untouched rainforests.
A must-see beach in the area is Hot Water Beach, where the thermal heat from the ground rises through the sand and heats up the water. This is the ideal option of a cooler day and the scenery won't fail to disappoint either.
East Cape
The East Cape region is located on New Zealand's North Island and is highly regarded for its striking beaches and superb stretches of coastline. Relatively isolated, this area is ideal for those wishing to escape the crowds and spend some time getting in touch with nature.
Highlights of the region include the beaches of Gisborne and Tokomaru Bay, which is ideal for horseback riding.
Christine Barton