New Zealand's 10 Biggest Cities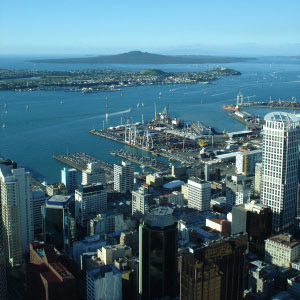 New Zealand is a country of many contrasts, offering stunning scenery, beautiful coastlines and world class cities.
While many tourists travel here to experience the stunning natural attractions, many discover that it is actually a country that also boasts a strong metropolitan feel.
New Zealand is decoratively dotted with pleasant cities; some large and some charming and small. Driving in between these cities will reward you with some of the most untouched wilderness you will ever come across.
New Zealand's must-see cities include:
10. Queenstown
Known as the "Adventure Capital of the World", Queenstown may be small, but it is one you cannot be missed. Queenstown is New Zealand's premier ski destination as it is surrounded by magnificent mountains and crystal clear lake settings.
Queenstown is also a spring board for activities like bungee jumping, sky diving and white water rafting, making it a must-visit for anyone seeking a natural injection of adrenaline.
9. Rotorua
Much like Queenstown, Rotorua is also a city that is home to "world first" adventure experiences. Claiming that they capture the best of New Zealand in one, Rotorua is a city that encompasses the best of both natural and man-made attractions.
Most people travel to Rotorua to experience Maori culture and the geothermal earth forces, which are among one of the most earth moving experiences one could ever have. Rotorua also boasts some incredible mountain and lake scenery, with mountain biking a popular past time.
8. Nelson
Nelson is a centre for arts and crafts and is famous for hosting the annual Nelson Arts Festival. The city is also home to some fantastic beaches and a sheltered harbour, with kayaking a popular past time.
The Nelson region also covers the picturesque coastline of the Abel Tasman National Park, which is a must-see while visiting the South Island.
7. Dunedin
The people of Dunedin describe it as a "vibrant city surrounded by a giant outdoor playground", and this could not be truer. It's most notable natural highlight is of course the Otago Peninsula, which is home to some of New Zealand's most fascinating fauna.
Dunedin also regards itself as one of the most preserved Victorian and Edwardian cities in the Southern Hemisphere, ensuring all the architectural beauty of Europe, without the crowds.
6. Tauranga
Tauranga is one of New Zealand's main centers for business, international trade, culture, fashion, education and entertainment, and is also one of its fastest growing cities.
Each year Tuaranga hosts the National Jazz Festival, which attracts visitors from far and wide. Tourists are met with beautiful mountain and coastal scenery, along with a vast array of exciting things to see and do.
5. Napier
Located within Hawke's Bay, Napier is a port city that boasts incredible scenery and fantastic wineries. Commonly associated with Hastings City, Napier is a popular tourist city with a unique concentration of 1930's Art Deco architecture.
Napier is also famous for the wide variety of water sports on offer, including water skiing, wind surfing, kayaking and parasailing.
4. Hamilton
Positioned within the Waikato region of the North Island, Hamilton boasts a wide variety of city attractions and offers everything a metropolitan centre should.
The Hamilton Gardens are a particularly popular spot, offering unique garden contrasts and idyllic settings. The zoo is another hot spot, allowing tourists to discover a whole new animal world.
3. Wellington
New Zealand's capital city, Wellington, is a city of pleasant contrasts and a charming cosmopolitan feel. Positioned on the edge of a harbour, Wellington is surrounded by lovely rolling hills and stunning natural attractions.
Explore the great outdoors, shop until you drop, sample fine foods and wander through splendid vineyards; Wellington has it all.
2. Christchurch
Christchurch is the largest city on the South Island and lies just north of the Banks Peninsula. The city is centred around the lovely Cathedral Square; an area which is a must for any Christchurch tourist.
Some of New Zealand's best experiences start here, including the Hanmer Springs Thermal Pools and Spa, plenty of ski areas and swimming with dolphins.
1. Auckland
Topping the list of New Zealand's biggest cities is Auckland; New Zealand's premier city destination for breathtaking scenery, beautiful beaches, idyllic holiday islands, great food, wine and shopping and exciting nightlife.
Explore the city's many galleries and museums, head into the great outdoors and experience the coastline or get out on the water on a sailing or kayaking expedition.
Auckland offers something to everyone.
Christine Barton