10 Out-of-this-world New Zealand Experiences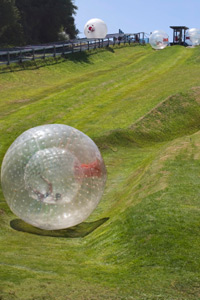 10. Zorb
Transform into a 'Zorbonaut' for the day and experience the exhilarating sport of globe riding; a guaranteed life changing experience.
The act of 'zorbing' involves rolling down a hill in a large inflatable globe and provides a mixture of fun, exhilaration and a killer abs workout.
It's unlike anything else you will ever experience!
https://www.zorb.com/
9. Swim with Dolphins
Forget Seaworld! Swimming with the dolphins in New Zealand brings a whole new meaning to the phrase "getting in touch with nature".
A dolphin encounter in Kaikoura, New Zealand lets you swim with the dusky dolphins in their natural environment. However what makes this experience so unique is the size of the pods, which can range in numbers up to the hundreds.
8. Hot air ballooning
It may require you to be out of bed before the sun is shining but a hot air balloon flight is sure to soothe those weary eyes within mere minutes.
Discover a world that is still asleep beneath you and see the sun rise from a whole new perspective. Whether it is from Queenstown, Auckland, Waikato, Hawke's Bay or Wairarapa, the blanket of beauty you will be exposed to is sure to be out of this world.
7. Heli-Hiking
Hiking will never be the same again once you take a heli-hike tour in New Zealand's Franz Josef. Dismount from a helicopter and take a unique guided walk amongst ice caves, pinnacles and seracs.
This glacier is one of the most spectacular in the region, if not the country and will almost literally leave you breathless.
6. Black Water Rafting
Originating in New Zealand, black water rafting allows you to abseil, weave, jump, and float through a glow worm-studded subterranean wonderland.
Descend into the blackest of black caves and be inspired by the unique glow of these clever creatures as you weave your way through the waters of this cave.
This adventure will transport you into an entirely different world; one that have only been exposed to a small handful of people.
5. Shotover Jet
Regarded as "The World's Most Exciting Jet Boat Ride", the shotover jet is sure to evoke pure excitement and thrills.
This thrilling ride skims past rocky outcrops and through narrow canyons at breathtaking speeds, with the 360 degree spins never failing to please.
http://www.shotoverjet.com/
4. White Water Rafting
Whether you are an experienced white water rafter or have never done it before and are just seeking a day of thrills, New Zealand is sure to offer something for you.
Queenstown is regarded as the original adventure capital of the world so it makes sense to partake in this exciting activity here. Surrounded by gorgeous scenery, this is a ride that will make your heart beat faster, your knees go weak and let ear piercing screams escape from your lips.
3. Minus5 Ice Lounge
For the coolest experience in New Zealand you really can't go past the Minus 5 Degrees Ice Lounge.
This bar is produced completely from ice and is the perfect place to chill out...literally!
2. Mount Tongariro
Transport yourself to Middle Earth with a visit to Mount Tongariro; the land of the Lord of the Rings.
This world heritage site will make you feel like you are in a completely different world, with its stunning active volcanoes sure to delight, enthrall and instill a mild sense of terror.
1. Canyon Swing
The canyon rush has been described as a "highly adrenalised sensation that is created by the unique combination of natural geography and ingenuity."
Leap from a 109 metre high cliff edge, freefall for 60 metres and reach speeds of 150 kilometres per hour as you swing across a magnificent canyon, with the shotover River resting between it.
http://canyonswing.co.nz/