New Zealand's Top 5 Ski Destinations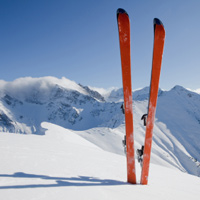 New Zealand is one of the most popular destinations for skiing in the Southern Hemisphere; and for good reason. Visit between July and October and you will be met with mountains of snow, fantastic ski resorts and some of the best facilities around.
Mount Ruapehu - Turoa and Whakapapa
As New Zealand's largest ski area, Mt Ruaphehu is a must on any ski holiday.
This region is home to some of the most amazing natural skiing terrain in the country, offering huge snow filled basins, steep chutes, drop-offs and secret powder stashes.
Queenstown - Coronet Peak, The Remarkables and Mt Hutt
The ski areas around Queenstown are home to some of the steepest slopes, most incredible scenery and world class ski resorts.
Offering programs and packages for beginners and experts, there is sure to be something here for everyone.
Wanaka
The Wanaka region is a popular hot spot for skiers, with the Lake Wanaka Winter Resort offering the perfect place to enjoy the atmosphere.
This premier winter holiday destination offers something for skiers, boarders, heli-skiers, x-country skiers and back country tours, making it the ideal destination for snow sport lovers.
Mount Potts/ HeliPark
For all those keen to heli-ski, this park is the place for you. Offering great rates on lifts, Heli Park New Zealand is the premier destination for this exhilarating form of skiing.
The incredible backcountry terrain makes for an awesome day out, offering steeps and tight chutes, to wide open powder bowls, gullies and drop offs.
Temple Basin Ski Area
Offering extreme conditions courses to visitors, the Temple Basin Ski Area is a must for those after an exhilarating and unforgettable skiing experience.
Although a relatively undiscovered ski area, Temple Basis is fast becoming a popular hot spot for international ski holidays. So get in before the hoards of crowds begin to discover this winter wonderland. You won't be disappointed!
Christine Barton