New Zealand's 10 Best Waterfalls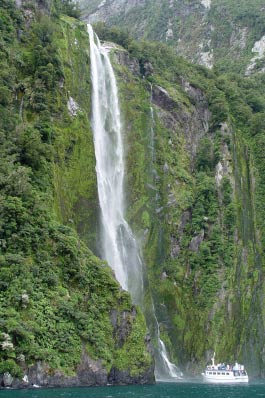 The sights and scenery of some parts of New Zealand are truly remarkable and none perhaps more so than the waterfall regions of this beautiful country.
The collection of New Zealand waterfalls encompasses almost every variety imaginable. From raging rapids, to timid trickles, New Zealand offers it all, leaving nobody disappointed.
Some of the best waterfalls in New Zealand include:
Haruru Falls
Although this waterfall isn't very high (just 5 metres), it makes up for it in width, spanning the Waitangi River. Positioned in the Bay of Islands region, a visit to this fall will give you a refreshing change to the otherwise coastal scenery in this area.
Rainbow Falls
Falling from a 27 metre high cliff, Rainbow Falls closely resemble Whangerei Falls, but is actually positioned in the Bay of Islands, in the Northland Region. Walk the Kerikeri River Track to get to the falls, and take a dip in the Fairy Pools while you're there.
Huka Falls
Huka Falls is one of the most visited natural attractions in New Zealand, and with good reason. While it only stands 11 metres tall, its sheer power and stunning colours make it a must-see while in the Taupo region.
Marokopa Falls
Positioned near the Waitomo Caves, Marokopa Falls are as much beautiful as they are symmetric. Falling from a 30 metre cliff face, these falls are a sight to behold and simply cannot be missed.
Devil's Punchbowl Falls
As the most prominent highlight of the Arthur's Pass area, Devil's Punchbowl Falls never fail to disappoint. Dropping from a whopping height of 131 metres, these falls are spectacular from both afar and from their base.
Thunder Creek Falls
While its name may suggest otherwise, the Thunder Creek Falls of the Haast River Valley are far from thunderous, but are still remarkable to look at. Extremely easily accessible, these falls tumble down a 28 metre escarpment, with their powder blue colour sure to impress.
Stirling Falls
This permanent waterfall of Milford Sound drops 155 metres below a hanging valley between Elephant Mountain and Lion Mountain. Simply breathtaking, this is a waterfall that is guaranteed to impress.
Bowen Falls
Another of Milford Sound's major waterfalls, Bowen Falls is the tallest waterfall in the Fiord and is definitely one to bring the camera along for.
Purakanui Falls
Easily one of New Zealand's most beautiful waterfalls, Purakanui is comprised of 3 tiers and tumbles for an impressive 15 metres. A short walk will lead you here, where you can either view the falls from their top or their base.
Waipunga Falls
This segmented waterfall falls for 40 metres and is a popular roadside segmented waterfall that is also in close proximity to Waiarua Falls.
Christine Barton