New Zealand's Top 7 Wildlife Encounters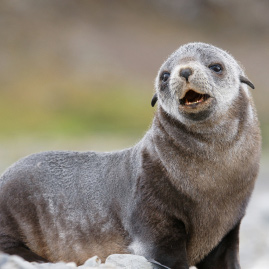 Seal Swim Kaikoura
As New Zealand's original seal swimming team, Seal Swim Kaikoura know what it takes to make a totally unique and fun wildlife encounter experience.
This encounter gives you the chance to snorkel with wild New Zealand fur seals, either off the banks of a peninsula or out on the water in a boat-based tour. Discover how friendly and playful these cute little creatures can be as you enjoy the crystal clear waters off the New Zealand coastline.
www.sealswimkaikoura.co.nz/
Dolphin Watch Eco-tours
Owned and operated by locals, the award winning Dolphin Watch Eco-tours provide tourists with a scenic wildlife cruise that includes independent walks at Historic Ship Cove and tours of the Motuara Island Bird Sanctuary in the stunning Marlborough Sounds.
If you choose to swim with the dolphins you are likely to encounter dusky dolphins, bottlenose dolphins and even the rare Hector's dolphins. There is also a high probability of coming across New Zealand fur seals and a variety of sea birds, including gannets, shearwaters and penguins.
www.naturetours.co.nz/
Elm Wildlife Tours
This wildlife tour is the number one choice for those seeking close encounters with rare yellow eyed penguins, Hooker's sea lions, New Zealand fur seals and sea albatross. Based in Dunedin, these tours allow visitors to uncover the many highlights of the naturally diverse Otaga Peninsula.
Dunedin is regarded as the wildlife capital of New Zealand meaning that the possibility for encountering wildlife here is almost endless.
www.elmwildlifetours.co.nz/home/
Whale Watch Kaikoura
Whale Watch Kaikoura is New Zealand's only marine-based whale watching company and offers tours all year round. Experience an up-close encounter with Giant Sperm Whales and if you are doing a tour in the right season, you may even come across Humpback, Pilot, Blue and Southern Right Whales.
Kaikoura is also home to the world's largest dolphin, the Orca the rare Hector's dolphin, and the largest concentration and variety of seabirds in New Zealand, including Albatross, Petrels and Shearwater.
www.whalewatch.co.nz/
Auckland's Whale and Dolphin Safari
Voted as the "Best Day on the Water" in Auckland, this Whale and Dolphin Safari will leave you spell bound by the wonder and beauty of New Zealand's wildlife. The marine park that rests within the Waitemata Harbour and Hauraki Gulf boasts over 25 of the 37 southern hemisphere marine mammals.
The cruise includes commentary on the culture and history of Auckland's Hauraki Gulf and is the ideal way to experience the best of New Zealand's marine life.
www.explorenz.co.nz/Whale-Dolphin-Safari/index.html
Royal Albatross Centre
Located at Taiaroa Head, right on the tip of the Otago Peninsula, this Albatross Colony is the only one of its kind in the Southern Hemisphere. Boasting a population of approximately 140 birds, this centre offers interpretive wildlife displays and an unforgettable look at these amazing creatures.
http://www.albatross.org.nz/