New Zealand's Best Wine Regions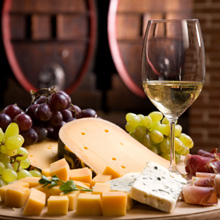 Embarking on a winery tour through New Zealand is a great feat to accomplish in a campervan.
Popular with couples, this sort of holiday usually only comes along once in a lifetime, so it makes sense to make the most of it.
Some of New Zealand's must-visit winery regions include:
The Marlborough Region
Positioned at the top of the South Island, Marlborough is New Zealand's largest growing wine region and is a must-visit for any lover of wine in New Zealand.
Most famous for its fabulous Sauvignon Blanc, which is among the best in the world, this region is home to well over 60 wineries, with one seemingly around every corner.
The Nelson Region
Although often overshadowed by the Marlborough region (both in popularity and proximity), the Nelson region boasts some of the best wines in the country.
Although this is one of the smaller wine regions, it still boasts an impressive 17 wineries, including Anchorage Wines, Five Oaks and Blackenbrook Vineyard.
The Canterbury Region
Since 1840 the Canterbury and Christchurch regions have been growing and producing world class wines, including Chardonnay, Pinot Noir, Riesling and Sauvignon Blanc.
Popular wineries include Opihi Vineyard and Pegasus Bay Winery, which both offer an incredible food and wine experience, sure to impress.
The Central Otago Region
While Central Otago's wine region is small, it definitely is thriving. Boasting a whopping 178 wineries, this region has a high world-wide reputation for Pinot Noir, while also experiencing some success with sparkling wines.
The Wairarapa Region
If you are holidaying in Wellington and seeking a weekend escape among some lovely wineries, the Wairarapa region would have to be your best bet.
Rolling hills and a panoramic mountain background make this a region both beautiful and thriving. Perfect for a couple's getaway, this area is sure not to disappoint.
The Hawke's Bay Region
Producing wines with an extremely unique quality, the Hawke's Bay Region truly is among New Zealand's best wine regions. In fact, second to the Marlborough region, it is the largest.
Home to some of the country's oldest wine making establishments, this is the region to visit for those keen to learn the fascinating history and heritage of wine making.
The Gisborne Region
Specialising in Chardonnay, Chenin Blanc, Gewurztraminer, Merlot, Muller Thurgau, Muscat, Pinot Noir, Semillon and Viognier, this region is guaranteed to impress.
Not only are the wineries superb, but their setting is also among the spectacular. Enjoy awe-inspiring settings as you sample some of the nations finest and remember exactly why it is that you enjoy this pastime so much.
Christine Barton