Picturesque Picton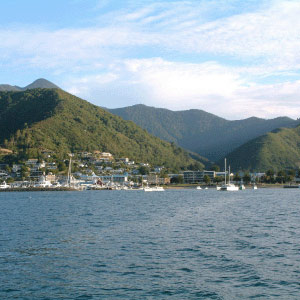 Picton is a picturesque, waterfront town in the Marlborough region of New Zealand's South Island. Regarded as Marlborough's main commercial port, this seaside settlement is near the head of Queen Charlotte Sound and provides easy access to this stunning area. It is also known as the gateway to the South Island and the Marlborough Sounds, making it the perfect place to base yourself for exploration of the Sounds.
The town of Picton is embedded with years of local history that give it a certain uniqueness and originality. Picton was named after Sir Thomas Picton, who was the military associate of the Duke of Wellington. A visit to the Picton Museum will demonstrate the history of this settlement and depict the local way of life. The museum will give you an insight through a porthole into the past, with stories ranging from the whaling days to the construction of the historic railway station. The juicy trivia that the museum offers with leave you with an open mind and more knowledgeable of how this seaside port has developed over the years.
Having your own vehicle while staying in Picton, is essentially the most versatile option for you. Picton can easily be accessed via State Highway 1, which will link you to Blenheim and Christchurch.
Campervan hire New Zealand
has several pick up points in Christchurch so pick up your vehicle and then head north along the coast, while enjoying the stunning ocean and green landscaped views. Another scenic drive that you can take is the Queen Charlotte Drive, which winds westward towards Havelock. These scenic drives are best enjoyed from the comfort of your motor home, which allows you to travel at your own pace and stop wherever takes your fancy.
Picton is home to many beautiful beaches, easy bushwalks, lush vineyards and hilly pastures. The relaxed setting and waterfront views are even more enjoyable with the pleasant climate that is present all year round. Picton is essentially a family holiday destination and is considered the centre of New Zealand's wilderness playground. It is also a magnet for nature lovers and sports enthusiasts, offering an abundance of activities that allow you to get back in touch with nature. The town is within close proximity to the region's spectacular sceneries, wineries, cruises and a host of award-winning restaurants. It provides easy access to the best of the Marlborough countryside and city sight seeing adventures.
While staying in Picton, there are several activities that you simply cannot miss out on. If you are up for a bit of bush walking, then the perfect place to get your fix is on the Queen Charlotte Track. Either trek it yourself or take a guided tour. Taking a tour will allow you to incorporate a cruise or a visit to a protected wildlife island, so this is highly recommended if you want an extended nature experience.
Stretch your legs even further and take a walk along the Picton Harbour and Foreshore. With rolling green hills acting as a pleasant backdrop, you can enjoy and experience the well-being and tranquillity of this area, while breathing in the fresh sea breeze. The harbour is home to an abundance of ferries and fishing boats and really paints the picture of what a seaside port should look like. While discovering the shoreline, be sure to take in the beautiful gardens and historical sites that are sprinkled along the water's edge. This walk is the perfect way to discover the stunning Picton landscape and uncover the vastness and uniqueness of this amazing town.
Another attraction that you simply cannot skip is a trip to Kaikoura. This is when
campervans New Zealand
come in really handy, as it is a good 2 hour drive south along the coast from Picton. However, the drive is thoroughly worth it as Kaikoura is the ultimate spot for whale watching. Experience a whale watch boat tour and discover these enormously majestic creatures, by getting within reaching distance of them. This is a truly unique experience and one that you will not soon forget.
Finding somewhere to rest your campervan for the night is easy in Picton, with many accommodation options available to you. However you simply cannot go past Picton Top 10 Holiday Park, which is a part of one of New Zealand's most respected accommodation chains. Set in tranquil surroundings, this is the perfect place to relax and unwind, and re-energise your camper's batteries. The friendly owners will help you out in whatever way they can and help make your holiday a jam packed adventure that you will never forget.
Staying in Picton allows you to get back in touch with nature and become accustomed with seaside living. A wide range of activities means that you will never be left with nothing to do and all you have to do is have fun!
Christine Barton