The Pure Inspiration Of Queenstown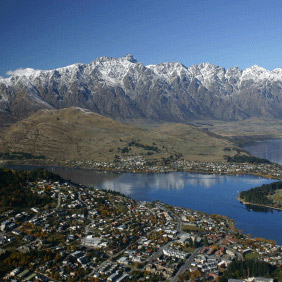 The quaint city of Queenstown is the premier four season lake and alpine resort in the south-west of New Zealand's South Island. The city itself is surrounded by majestic mountains and is nestled on the shores of the crystal clear Lake Wakatipu. Its setting in the magnificent landscapes of the Southern Alps, gives Queenstown a certain ambience and atmosphere that keeps visitors coming back for more.
Queenstown is known for its commerce-oriented tourism and is the largest centre of the Central Otago region. The city was built around an inlet on Lake Wakatipu and is also right in the centre of a small wine producing region. Its prime location makes it a major centre for water and snow sports, making it an exciting destination to visit all year round.
Adding a visit to Queenstown on the itinerary for your next campervan holiday in New Zealand is essential for many reasons. Not only is there several
Campervan Hire New Zealand
depots within the city, but having your own campervan in this stunning city means that you can explore all that Queenstown has to offer, along with the magnificent areas that surround it. Queenstown is often referred to as the gateway to Milford Sound, which is in the heart of Fiordland. Queenstown is the perfect place to pick up your campervan and trek up through Fiordland and discover some of New Zealand's most amazing sights.
A pioneer spirit has shaped the region of Queenstown, which gives it a special atmosphere and unique setting. Downtown Queenstown is a compact and sophisticated area that offers something for those young and young at heart. At the heart of the city lies a lively cafe and bar scene, which specialises in culinary delights and fantastic locally produced wine. Wandering the streets will allow you to discover the hidden boutiques, modern shopping malls and unique art and craft shops that make this city a shopping lover's paradise. Queenstown offers everything that your modern-day cosmopolitan city should, with a hint of something more!
Queenstown is also renowned for its adventure and earns its title of the 'adventure capital of the world'. It has everything an adventure seeker could want! If you are seeking high thrills and a natural adrenaline rush or you simply want to have fun in nature, you are sure to find something in Queenstown that is just right for you. From bungy jumping to wine trails, jet boating to tramping through untouched rainforests and dining out to skiing, Queenstown is surely not lacking in non-stop fun and adventure.
Another highlight of the Queenstown region is the abundance of "Lord of the Rings" locations in the surrounding area. Apart from areas of Wellington, this area was used for many of the scenes in the Oscar-winning movie. See exactly why Peter Jackson chose this area and discover the land of the hobbits for yourself. Choose to take a guided tour or do your research and find the locations yourself. Be sure to take your camera with you as you will want to cherish these sights forever!
For those wine lovers out there, Queenstown is the perfect location to discover fine wine and excellent vineyards. Experience the Queenstown Wine Trail and you will not only learn the history and development of New Zealand wine, but you will also get to sample some of the best wines in the world. Even if you are not a big lover of wine, simply soak up the beautiful scenery of the trail and relish the opportunity to mingle with the friendly locals.
A visit to Queenstown will also let you explore New Zealand's history and discover stories of days gone by. Dropping into the Lakes District Museum will take you back in time to the early days of Queenstown, from its colonial development through to its progression as a major, thriving, metropolitan city. Gaining an understanding of the history of this amazing country will broaden your horizons and permit you to understand their ways of life with a more educated perspective.
On your campervan holiday in Queenstown, there are many places that you can camp your vehicle for the night, while enjoying the perks of having your own home on wheels. "Creeksyde" is the area's award winning Top 10 Holiday Park and is renowned for its 'green environment'. The park was especially built for
campervans New Zealand
and offers upmarket facilities. With a sheltered garden location and just a short walk from the town centre, just a few of its perks, this really is the perfect place for you to rest your vehicle on your stay in Queenstown. Another fantastic accommodation option is the Queenstown Lakeview Holiday Park. As the name suggests, the park is located right on the banks of Lake Wakatipu and is part of the Kiwi Camp Holiday Parks, another respected accommodation chain of New Zealand. Wherever or not you choose to stay in Queenstown, you simply will not be disappointed but rather, never wanting to leave.
The resort town of Queenstown truly is one of the best places to visit in New Zealand and is perfect for exploration in your campervan. This natural theme park is home to spectacular geography and offers something fun for all those adventure seekers out there. The awe-inspiring scenery alone will draw you in and allow you to conclude that you simply cannot get much better than Queenstown!
Christine Barton