Top 5 Places To Skydive In New Zealand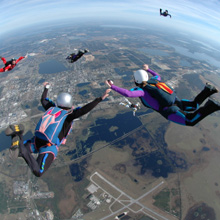 Whether you do it for the thrill, on a dare or just to say you have, sky diving would have to be one of the most amazing experiences one can encounter in a lifetime.
New Zealand is an ideal place to take to plunge, as it is home to some of the world's most beautiful landscapes, stunning mountains and breathtaking views. Experiencing this from the sky is even more enjoyable, even if it feels you are falling through the sky at 13,000 feet, with no way of stopping, but for a mere backpack fastened to your back.
When it comes to sky diving, the New Zealand locals know what they are doing so it really is just a matter of what views you want to be enjoying as you fall through the sky.
1. Abel Tasman Skydive, Nelson
Run by one of New Zealand's most experience sky divers, Stuart Bean, Abel Tasman Skydive offers "the best of New Zealand's scenery in one jump!"
As you fall through the sky you will be blessed with remarkable views of the Abel Tasman and Kahurangi National Parks, the Southern Alps and North Island's mighty peaks, adnd not to mention the countless golden beaches that line this stretch of the coast.
Simply Stunning!
http://www.skydive.co.nz/main/home/
2. Skydive Lake Wanaka
Abiding by the slogan "Jump into the view... It's a potent mix", Skydive Lake Wanaka offers an exquisite mix of stunning scenery and literally breathtaking views.
Experience the sights of Mount Cook, Mount Aspiring, crystal clear alpine lakes, ancient rainforest and the best of New Zealand's high country.
http://www.skydivewanaka.com/
3.
Nzone - Queenstown
Queenstown is known as New Zealand's "Adventure Capital of the World", so sky diving here seems quite appropriate. See the stunning sights of this incredible city and its beautiful surrounds as you drop from 15,000 feet above ground level.
http://www.nzone.biz/Skydive/
4.
Taupo Tandem Skydiving
Located in the Central North Island, Taupo Tandem Skydiving is the best way to disover the incredible Lake Taupo. This is the country's largest lake and is surrounded by some of the region's most famous rivers.
http://www.taupotandemskydiving.com/
5.
Skydive New Zealand
Skydive the Glaciers and discover the best of New Zealand's West Coast and Alpine scenery. Aside from the actual dive itself, the experience will be among the most memorable in your life thanks to the spectacular scenic flight you will be taken on first.
Enjoy first-hand views of the West Coast rainforests, Lake Matheson, the Tasman Sea, the Southern Alps and in the winter, the glorious glaciers that give this area such a magical feel.
This is one not to miss!
http://www.skydivingnz.co.nz/
Christine Barton