Discover The Beauty Of Te Anau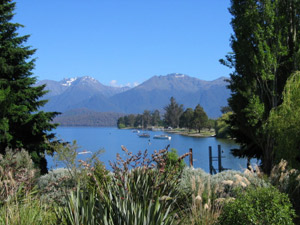 The gorgeous area of Te Anau is located on New Zealand's South Island right on the border of the Fiordland National Park. It is home to the largest lake on the South Island, and the second largest in the country.
This small lakeside town is home to just 1,850 people and it is this small-town feel that makes this destination such a fantastic place to visit.
Te Anau is regarded as the "gateway to the fiords" and is the closest town to the beautiful Milford Sound. Its position on the edges of the stunning lake and its pristine backdrop of Mt Luxmore and the Murchison Mountains makes it idyllic and spectacular to say the least.
The lake sprawls at the feet of rugged high mountains which enclose the area in beauty and intrigue. During the summer months the lake comes alive with activity, with water skiing, swimming, fishing and kayaking, popular activities to partake in on the lake.
The culture here is also very strong. Absorb some of the local cafes and restaurants and discover some of the region's finest local produce. Fiordland specialises in venison, lobster and a whole range of seafood so be sure to try some out.
Te Anau is also known was the "Walking Capital of the World" and is located close to the main southern walking tracks. Popular southern walking tracks in the area include the Milford, Hollyford and Kepler Tracks, which each offer unsurpassed views of the gorgeous Fiordland National Park.
Another of Te Anau's major highlights is of course, the Glow Worm Caves. Explore the mysterious underground world and drift in silence under a blanket of glow worms. These fascinating caves are a must while in the area, and are possible to explore at a very reasonable cost.
For those interested in the town's history, the Te Anau Visitor Centre and Museum will definitely be worth a visit. Embark on a journey back through time and discover the photographs, displays and exhibits that depict life about Te Anau and Fiordland.
For those wishing to spend a night or two on the shores of the lake, the Te Anau Lakeview Holiday Park is an ideal option. The park is situated on the south shore of Lake Te Anau and acts as the perfect base for exploring the Fiordland National Park. It also has the advantage of being just a 10 minute walk from the centre of town.
Te Anau is a remarkable destination all year round and is ideal for a campervan holiday. The natural beauty that surrounds the area is remarkable and will simply take your breath away!
Christine Barton