New Zealand's Top 10 Campervan Hot Spots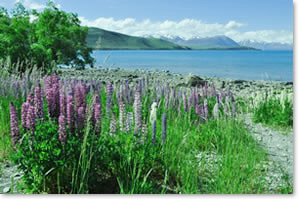 North Island
1. Ruakaka Reserve Motor Camp
Regarded as the best camp in the North, Ruakaka Reserve Motor Camp is situated on 32 acres of peninsula and lies directly on the banks of a pristine (and safe) estuary.
With over 180 camp sites on offer, you will be free to discover the nearby Waipu Glow Worm Caves, horse trekking, local wineries and Ruakaka Kiting.
2. Blue Heron Holiday Park - Whangarei
Of the handful of holiday parks nestled on the waterfront of New Zealand's Northland, the Blue Heron Holiday Park is a stand-out. Set up on one of the waterfront sites ad enjoy your native, subtropical bush surrounds as you relax by the lapping waters of this pleasant bay.
Golf, tennis, kayaking, swimming, surfing and bush walking awaits so rest up at night because you will need all your energy for the exciting day time activities here.
3. Anglers Lodge - Coromandel
Staying at the Anglers Lodge provides a perfect and rare opportunity to live and love one of New Zealand's premium coastal holiday resorts. This popular park is nestled in a private valley and is surrounded by lush native bush and some of New Zealand's most spectacular coastal scenery.
While staying here, take a sight-seeing tour, hire a boat for the day, go on a charter fishing adventure or embark on the Coromandel Coastal Walkway.
4. Waikaremoana Motor Camp - Lake Waikaremoana
If serenity and isolation is what you are after, you can't beat the Waikaremoana Motor Camp. Nestled on the lake's edge, next to pristine bush land, the camp is an ideal destination for those searching for peace and quiet.
Take advantage of the many walks on offer around here and discover some of New Zealand's most untouched pieces of paradise.
5. Baylys Beach Holiday Park - Baylys Beach
This park is ideally situated right near the long white sandy beaches of the West Coast of the Northland region of New Zealand. Another bonus is of course its close proximity to one of the best holiday attractions around; quad biking on the beach!
Offering top facilities for visitors with campervans, this is a great park to stay at to experience the fun and adventure that abounds on the North Island.
South Island
1. Abel Tasman Marahau Beach Camp - Abel Tasman National Park
Located right on the waterfront of beautiful Marahau, this camp is the ideal place to set up a campervan for the night while exploring the remarkable Abel Tasman National Park.
Set up camp at one of the many powered sites, which each offer stunning waterfront views and a calming relaxing atmosphere. Hire a kayak for the afternoon, or trek the hilly terrain on a mountain bike. Whichever takes your fancy, you are sure to be absorbing some of the country's most majestic seaside attractions.
2. Milford Sound Lodge - Milford Sound, Fiordland
New Zealand's Fiordland region is perhaps the most anticipated destination of any holiday here. In particular, Milford Sound boasts some of the most breath-taking, awe-inspiring sights one could even think imaginable.
The Milford Sound Lodge is nestled at the foot of the Darran Mountains and offers spacious campervan sites and excellent facilities for visitors. This is the ideal base for exploration of this incredible and unforgettable region.
3. Okiwi Bay Holiday Park and Lodge
This enchanting paradise is located on the western side of the Marlborough Sounds and is the ideal place to base yourself for exploration of this area.
This small, friendly holiday park offers stunning views of the rugged coastline and surrounding native bush land, providing the perfect setting for a South Island holiday.
4. Alpine Pacific Holiday Park - Kaikoura
Known as the holiday park "where the mountains meet the sea", Alpine Pacific Holiday Park offers a great range of accommodation options, perfect for campervans.
Boasting a relaxing environment, this park is perfect if you are seeking to explore the best that New Zealand has to offer in terms of nature.
5. Lake Tekapo Holiday Park
Set on the glimmering shores of the turquoise Lake Tekapo, this park offers endless views of the lake and its surrounding mountains. Take part in the many popular activities on offer around these parts, including mountain biking, boating, kayaking, fishing and stargazing.
The park is also a fantastic place to visit during winter as it gives you direct access to the naturally frozen ice-rink that forms here during the colder months.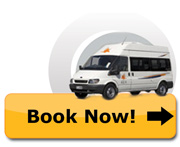 Related Information
New Zealand Camping Guide The New Zealand Camping Guide covers every camping area in the country, including: free camps, Conservation camps and local body camps. Our Guides are now available in book form, or in electronic form, as a pdf.