Auckland to Auckland in 5 Days (683 km)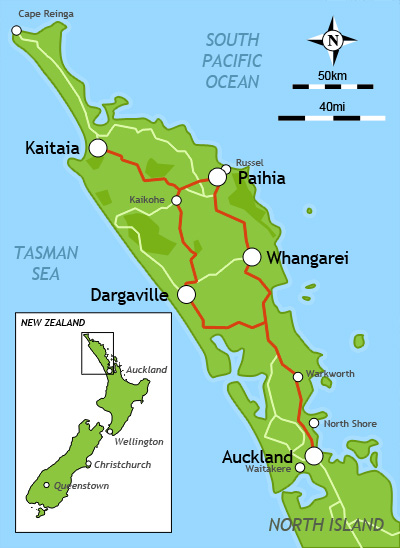 Discover the wonders of the top of the North Island as you embark on a five day exploration that will begin and end in New Zealand's biggest city, Auckland. This incredible journey will take you through the northern highlights of Dargaville, Kaitaia, Paihia and Whangarei, where you can explore the natural wonder and beauty of New Zealand at your own pace! Starting your journey in Auckland prepares you for the splendour and magnificence that you are about to find!
Day 1 - Auckland to Dargaville
176KM (2 hrs, 26 mins)
Begin your motorhome adventure of New Zealand's North Island by picking up your campervan from the centre of Auckland. The surroundings of this spectacular city truly set the scene for what is to come, with a waterside location and distant hills and dormant volcanoes creating a stunning backdrop.

Heading out of the city in the early afternoon will allow you to familiarise yourself with your new driving conditions, while the sun is still shining. The 180 kilometre drive to the town of Dargaville rewards you with amazing sights, sounds and smells and all you have to do is soak them up!

The town of Dargaville is situated on the bank of the Northern Wairoa River and is also home to one of the largest, unbroken stretches of beach in New Zealand. Dargaville is the perfect place to base yourself for the night, with a friendly and welcoming atmosphere making you feel right at home!
Where to Stay!
Dargaville Campervan Park and Cabins

Finding somewhere to park your new home is made easy by the Dargaville Campervan Park, as they boast a central location, making them extremely easy to find. At the park you can enjoy powered sites that are complete with private ensuites next to them, which is perfect for those who do not have a bathroom incorporated into their motorhome. A close proximity to the local shops, restaurants and cafes will give your campervan a break, as well as allowing you to explore the local sights on foot! (http://www.dargavilleaccommodation.co.nz/)

Dargaville Holiday Park

The Dargaville Holiday Park is a newly renovated tourist park that is set on beautiful, secluded, park-like grounds. The park is close to the local beaches, parks and forests, which makes it the ideal place to base yourself for further exploration of the area's natural playgrounds! (http://www.kauriparks.co.nz/)
Don't miss!
Baylys Beach

While visiting the town of Dargaville, you simply must take a walk along New Zealand's longest beach. Stretching a total of 100 kilometres, you are sure to find your very own section to enjoy in peace and quiet. The raging waves and shifting sands are simply spectacular and truly a sight to behold!
Other Attractions
The Dargaville Museum

For those wishing to gain an understanding of the local history and heritage of Dargaville, a visit to the Dargaville Museum is essential! The museum is home to relics of old shipwrecks, along with many pioneer and Maori displays. With indoor and outdoor facilities, as well as convenient parking for your campervan, there really is no reason not to check it out! (http://www.dargavillemuseum.co.nz/)


Day 2 - Dargaville to Kaitaia
162 KM (2 hrs, 20 mins)
After you have finished your exploration of Dargaville, it is time to head further north along the East Coast. When travelling the 162 kilometres from Dargaville to Kaitaia, you will come across many places that you will want to stop at and investigate. The Kai Iwi Lakes are the perfect place to stop for a picnic lunch as you will be able to enjoy the pristine surrounds while you soak up the peaceful nature of this location.

This stretch of the drive truly is amazing! Throughout the entirety of your journey you can take in the wonders of the 1000 year-old trees and cathedral-like groves of the Waipoua Forest, allowing for never-a-dull moment in your voyage.

After cruising past the pleasant rolling hills and passing through the Kauri gumfields town of Ahipara, you will come into the commercial centre of Kaitaia! The main industries here are forestry and tourism, with the orchards of avocados also playing a prominent role in the ambience of the area. Kaitaia is the ideal place to stay if you wish to explore all that the very far north has to offer!
Where to stay!
Norfolk Motel and Campervan Park

This tourist abode is the perfect place to stay while discovering Kaitaia and the unique features of the far north. Located just 6 kilometres north of the town centre and only a 10 minute drive to the local lakes and the famous "Ninety Mile Beach", the positioning of this park is simply ideal.

The park boasts an impressive 16, powered, grassy campervan sites, with prices starting at just $12 per person, per night. With modern BBQ facilities and a family-friendly heated pool, there really is no need to look any further then the Norfolk Campervan Park! (http://www.norfolkmotel.co.nz/camper.htm)
Don't miss!
Gum Diggers Park

The Gum Diggers Park is located in the ancient buried Kauri Forest, just 25 kilometres north of Kaitaia. Gain an understanding of some of the local history and how things were done in the days gone by! This attraction offers a truly unique, one-of-a-kind experience, which makes it one of the must-see attractions of the Northland. (http://www.gumdiggerspark.co.nz/)

Ninety Mile Beach

Ninety Mile Beach stretches just west of Kaitaia all the way to Cape Reinga. Although the beach is actually only 88 kilometres long (not living up to its name), the sights here will simply amaze you! The looming sand dunes offer a desert-like landscape and are truly unlike anything else you will see in New Zealand!
Other Attractions
Millennium Nocturnal Park, Kiwi, Ostrich and Glow-worm - Kaitaia

This natural fauna wonderland is located between the Bay of Islands and Ninety Mile Beach. The park is home to an eel pond, an ostrich paradise and a glow-worm cave, just to name a few. What makes it perfect for you is that you can park your campervan here and stay the night. This gives you the opportunity to escape the town centre, as well as allowing you to take the free tour of the night glow-worm world. Enjoy the friendliness and hospitality of the locals and take part in something out of the ordinary! (http://www.tourism.net.nz/ OR www.millennium1st.com/)


Day 3 - Kaitaia to Paihia
101 KM (1 hr, 24 mins)
Although the prospect of leaving Kaitaia may sadden you, a smile will quickly come to your face as you venture further across the East Coast along the S.H.1. Discover the sweeping golden sand beaches and sheltered coves that line the coastline and take in the breathtaking views that stretch for miles. Although the drive to Paihia is only 103 kilometres in distance, you simply must stop in at the fishing village of Mangonui for lunch. Taste the freshest fish and chips that you will ever have and take some time to browse the fine local arts and crafts.

Eventually you will turn onto the S.H.10, which will directly bring you into the 'Jewel of the Bay Islands', Paihia. This is the perfect destination for you to get out on the water and take part in some of the fantastic water based activities on offer. Your stay in Paihia is sure to be one filled with fun and adventure, and will be the aquatic highlight of your campervan holiday!
Where to Stay!
Bay of Islands Holiday Park - Paihia

This tourist park is nestled on the banks of the Waitangi River, which makes it the perfect park for canoeing, kayaking and safe swimming. The park is home to many spacious powered sites, which will allow you to park your campervan in an area where you can enjoy your own space! The native surrounds provide for a quiet night of relaxation and serenity: the perfect place for you to catch up on some quality reading. (http://www.bayofislandsholidaypark.co.nz/)

Beachside Holiday Park

If you choose to opt for a park that places a greater emphasis on the surrounding beaches, islands and bays, your best bet is to stay at the Beachside Holiday Park. As the name suggests, the park is located right on the beachfront, making it an ideal distance from all those exciting water activities. The powered sites here start at just $13 per person, per night, which makes it ideal to suit any budget. (http://www.beachsideholiday.co.nz/)
Don't Miss!
Cruising the Islands

The most popular cruise that tourists venture on is the "Kings Dolphin Cruises and Tours". These tours offer exciting opportunities to swim with the dolphins or explore ancient ship wrecks and discover Cape Reinga and Ninety Mile Beach from a whole new perspective. (http://www.dolphincruises.co.nz)
Other Attractions
Haruru Falls

These magnificent, yet placid falls are located in Waitangi. Spend a few hours exploring the natural bush surroundings on the multiple bush tracks that are spread throughout the forest area. Visiting the Haruru Falls allows you to get back in touch with nature and discover the untouched intensity of some of New Zealand's best!
Day 4 - Paihia to Whangarei
70 KM (1 hr, 9 mins)
When leaving the seaside abode of Paihia in search of Whangarei, I strongly advise that you take the scenic route. You can access this by taking a short drive north until you reach the town of Russel. From here, follow the coastline until you reach Helena Bay, which will take you back onto the S.H. 1. Taking this driving route will allow you to experience the natural beauty of the West Coast, which boasts a stunning indented coastline and magnificent ocean views. The roads are all sealed here, which will make your campervan journey a smooth and pleasant one.

Upon reaching the city of Whangarei, you will find a magnificent contrast of mountainous surrounds, clear blue lakes and beaches and a pleasant cosmopolitan feel. Whangarei offers something for all and is just the right place to spend the last night of your New Zealand campervanning adventure!
Where to Stay!
Whangarei Holiday Park

The Whangarei Holiday Park is located in a native park reserve, with stunning hills setting a pleasant backdrop to the park. Home to multiple powered sites, starting at just $15 a night, this is the perfect place to base yourself for exploration of this city! Plus you will also receive a further 10% off just for choosing Discovery to hire your campervan through! (http://www.whangareitop10.co.nz/)
Don't miss!
Museum and Kiwi House Heritage Park

While visiting the city of Whangarei, a trip to the museum is a must-do! The museum features significant exhibitions of early settler collections and is the perfect way to discover the history of this great city. The park is also home to Kiwi House, heritage buildings and a heritage park. Located just a five minute drive from the city, this is the perfect way to spend your holiday's last afternoon. (www.whangareimuseum.co.nz/)
Other Attractions
Longview Estate Winery

If you have a spare few hours while visiting Whangarei, you should definitely pay a visit to this stunning winery. Located on the State Highway, just on the edge of the city, you can experience the stretching vineyards and taste and purchase some of the local wine that is produced right on the premises. Enjoying the sights, smells and tastes that are on offer here allows you to reflect on the entirety of your New Zealand experience! (www.longviewwines.co.nz/)


Day 5 - Whangarei to Auckland
159 KM (2 hrs, 10 mins)
Day 5 brings forth the final day of your campervanning adventure so you may as well make the most of it! When heading back to your end point, Auckland, you have two options for the drive that are sure to make this last leg of your journey a rememberable one.

Follow the State Highway until you reach the Waipu turnoff. Taking this driving route will take you past pristine white sand beaches and will eventually take you to Waipu Cove, Langs Beach and Mangawhai Heads. From here, drive to Wellsford, where you will once again be cruising down the State Highway.

The second route you can take runs from Wellsford to Pakiri. Pakiri is a fantastic surfing beach and is the perfect place to stop for a bit of lunch. Rejoin the State Highway at Warkworth, where you will once again experience wide sweeping beaches and stunning Pacific Ocean views. You will leave this area feeling calm and relaxed and ready to head back into the busy city of Auckland!
Don't miss!
Horse Riding in Pakiri

This is a true once-in-a-lifetime experience! Gallop along the sandy white beaches of Pakiri on horseback and absorb the true serenity of these spectacular natural highlights. Breathe in the fresh sea breeze and feel the wind wisp through your hair as you sit back and take in all that surrounds you!
Other Attractions
Waiwera Thermal Spa Resort

A visit to the Infinity Spa is the perfect and fitting end to your holiday in New Zealand. Rejuvenate your mind, body and spirit as you take a relaxing soak in the heated mineral spas and enjoy the pampering that will be bestowed upon you. A few hours here will prepare you to step back into reality in a relaxed manner and get you ready for re-entering the city life! (www.waiwera.co.nz/)

End of Trip

Say goodbye to your adopted 'home' and return your campervan upon arrival in Auckland. Although you may not want your holiday to end, one thing is for certain: you will never forget this experience!