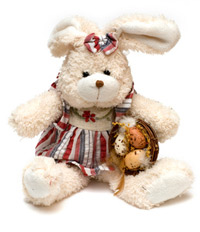 Don't be a Hot Cross Bunny this Easter!
Easter is only a hop, skip and a jump away so don't get egg on your face and get in early before all the best deals get gobbled up. The Easter Weekend starts from Good Friday, 18th April 2014, making this the perfect excuse to take the kids on a motorhome adventure.
9 Eggs-cellent Reasons why you should Book Now for Easter
First Come, First Served

Motorhomes are subject to availability at the time of booking. The larger 4 Berth and 6 Berth motorhomes are the favourite for the Easter break and sell out like hot cross buns.

Don't have a Bad Hare Day

If you book early enough, you will be able to choose your motorhome rather than settling on a suggested alternative.

Don't put all your Eggs in one Basket

Rates change weekly as most motorhome companies operate on a supply and demand basis. Generally speaking the closer you get to the date of pick up, the higher the rates will be because there is less availability. To put it simply, the earlier you book you can be confident that you are securing the cheaper rate.

Don't wait around for the Easter Bunny to Come

A deposit is all that is required to secure your motorhome for your chosen dates and locations. Not only does this secure the motorhome in your name, it also locks in the price and the balance is payable at the depot on the day of pick up.

The Early Chick Catches the Worm

Some companies offer Early Bird Discounts if you book and pay your deposit more than 120 days in advance.

Hop to it

Due to the popularity of travelling in a motorhome with your family and friends over the Easter long weekend, you should start deciding where you want to stay. Ring ahead and make a reservation now, before the campsites are booked out.

Fill your Easter Basket Early

Thousands of overseas travellers visit New Zealand to be with their loved ones at Easter time. I bet they are booking their flights, motorhome and sightseeing right now! Are you?

Don't give yourself Grey Hares

Just think, if you make a reservation today for your motorhome, the pressure is off from your family to do something exciting these Easter holidays.

A Journey of a Thousand Miles begins with a Single Hop

Your first step is to save a quote

If you require further assistance, call us today on 0800 003 022 or +61 7 3442 2900.

Or email our Reservations Team at reservations@discovery-motorhomes.co.nz.

So don't be hopping mad! Get in quick before all the motorhomes get snapped up like hot cross buns and start planning today!