New Zealand Costs - What to Expect?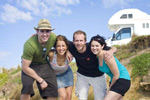 A holiday to New Zealand is guaranteed to offer the experience of a lifetime. A campervan is a great way to discover it as you will be able to explore the cities and countryside at your own pace, without the restraints of an organised tour.
You can't go wrong with booking your New Zealand holiday early. This will give you time to discover the best deals and get early-bird rates, especially for campervan hire. If you are sure you want to hire a motorhome, we recommend hiring 120-180 days in advance, depending on the company, in order to receive great discounts. This will give you plenty of time to organise flights and activities for your trip as well.
It also pays to shop around for flights. Compare prices across the board so that you can work out what deal is going to suit you best. It's a great idea to sign up for newsletters from all the different airline companies. They generally have weekly sales so you may be able to score a bargain!
Keep an eye on conversion rates as well. If you are planning on taking cash or a Travel Money Card, try to get this organised while the conversion rate is good. This will give you more money for your dollar!
Another word of advice: get your passport arranged with plenty of time to spare. If you have a valid passport, you're set, but if you are yet to obtain one, make sure you make the arrangements at least 6 weeks in advance. This will give you time to arrange the necessary documents, while also allowing plenty of time for processing.
Once You Arrive
Prices in New Zealand have been described by many travellers as quite expensive. However this entirely depends on where you are travelling from and what the conversion rate is like.
If you are picking up your campervan straight away, there are generally free shuttle services available. If you have chosen to stay in accommodation for the first night of your holiday, the two options for transportation are bus or taxi. The bus is generally cheaper, but can still be rather pricey. Expect to pay around $7 one-way for airport transfers.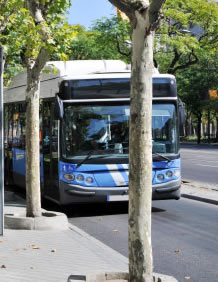 Costs While Travelling
The major costs while travelling in New Zealand include fuel, food and accommodation. The prices of activities vary, but once again it pays to book these in advance in order to get the best deals. Keep an eye out for 2-for-1 deals and discounts from coupon books. Every dollar saved counts!
Fuel Costs
The cost of petrol is surprisingly high in New Zealand. It also varies from town to town, with smaller, more isolated areas usually bumping up the price an extra 5-10%. However in some instances, you will have no choice but to purchase the more expensive fuel. Distances between petrol stations are incredibly vast, so it's a good idea to have some indication of how far you wish to travel each day.
Food Costs
The cost of food is quite reasonable. Meat and fresh produce is of course an exception, so be sure to take this into account. Travelling in a campervan gives you the freedom to prepare all of your own meals, which is a lot cheaper than eating out regularly. Depending on the size of the fridge in your van, you will be able to buy several days worth of food at a time. This will become useful when you are travelling to more remote areas of the country, where once again the price of food goes up.
Accommodation Costs
One of the best things about hiring a motorhome to explore New Zealand is that you will always have a warm, comfortable bed to sleep in at night. It also gives you the option to choose from caravan and holiday parks, Department of Conservation sites and freedom camping.
Holiday Parks are a great option if you wish to make use of facilities like toilets, showers and laundries. Sites are reasonably priced and vary between cost per site and cost per person. The average cost of a site is generally $30 per night, depending on the location.
Department of Conservation (DOC) sites are a great option for travellers on a budget. These can be found in National Parks and conservation areas and range from $5-10 per night/per person. Many of these sites have basic facilities, while some are fully equipped with showers, toilets and dump stations.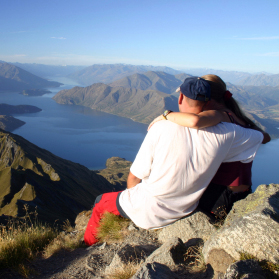 Freedom camping is another great option for camping in New Zealand. Also known as no-cost camping, it involves staying in designated areas without incurring any fee. Pay attention to signage though; if an area indicates "No Camping", you are not permitted to camp your motorhome overnight. Fines do apply if these laws are breached.
Planning ahead truly is the best way to make sure everything runs smoothly on your motorhome holiday in New Zealand.
Research, research, research! It's the best way to avoid any nasty surprises while travelling.
But above all, be sure to have a fabulous time here! There really is no other place quite like it!
Christine Barton
Also includes:
Reviews of the campgrounds I stayed at
Highlights of the trip
What to expect on the roads

---
Need more help?
Please try other related articles such as suggested itineraries or testimonials.