Wendekreisen

About Wendekreisen
Wendekreisen Travel Ltd is a family owned and operated New Zealand Campervan hire company offering quality Motorhome and Car rental to visitors since 1991. With over 20 years experience in the New Zealand Campervan rental market, they make every effort to deliver well maintained and modern vehicles at a cheap price.
Their experienced and highly committed team has your holiday at heart. They focus on offering reliable vehicles at the right price ensuring that you enjoy our beautiful country in a safe and relaxing way.
Stand Out Features
Wendekreisen value friendly, personalised and professional customer service. Their depots in Auckland and Christchurch are located within 5 minutes from the airport. They provide free airport transfers with a smile. Customers can enjoy the internet cafe' (Coffee, Tea, Biscuits Free of Charge) and relax prior to departure. There is an extensive information rack in combination with friendly, travel experienced and multilingual customer service ensures you are well informed.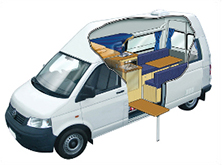 Vehicle Age
2003 -2015